Sanchez Claims Gibraltar Win, But Still Faces Political Weakness
(Bloomberg) -- Pedro Sanchez's Brexit brinkmanship has made him look statesmanlike as the Spanish prime minister claimed the centuries-old spat with the U.K. over Gibraltar could be resolved in Spain's favor.
Britain's last-minute gesture to meet Spanish demands may give his Socialist party a boost as it prepares to fight regional elections on Dec. 2 in Andalusia, a key power base. But will it actually make his minority government stronger and more able to pass key legislation? Probably not, according to a political-risk analyst at advisory firm Teneo Intelligence.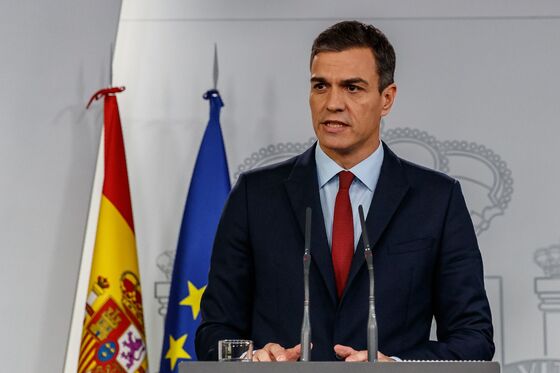 "The Gibraltar issue is always there, but it's not central to the political debate," said Antonio Barroso at Teneo in London. "None of this is going to make it any easier for Sanchez to actually govern."
Sanchez, who is struggling domestically, played up the importance of the deal reached on the terms for future talks on Gibraltar when he addressed Spaniards on Saturday. He said the European Union has strengthened Spain's hand in any negotiations, including the subject of co-sovereignty.
"We've reached a historic accord," Sanchez tweeted. "Europe and the U.K. have accepted our demands."
His comments about furthering Spain's claim to the Rock will certainly bolster Sanchez, the leader of a minority government with just 84 deputies in the country's 350-seat parliament.
"I think he can claim this as a political victory because he has promoted Spain's interests in an issue of national importance that is Gibraltar," Barroso said by phone.
Still, it will still be hard for him to get laws passed, such as his budget for 2019, Barroso said. Sanchez has also hinted that he may have to call general elections if Parliament maintains its blockade of key legislation, such as the spending plan.