Italian President Tells Salvini to Make Up His Mind on Snap Vote
(Bloomberg) -- Matteo Salvini needs to make up his mind, and markets are becoming impatient with his indecision on whether he's ready to pull the plug on Italy's populist government.
With his closest advisers egging him on, Italy's most powerful politician has been dangling the prospect of a snap election in recent weeks, and now President Sergio Mattarella wants him to make his intentions clear in the next 48 hours, local media reported.
The Italian president wants any new government to be formed in October, in time to deal with the 2020 budget, according to an official who asked not to be identified discussing confidential plans. Mattarella may meet Salvini next week, the official said, adding that the head of state wants to avoid an election campaign in August because many Italians will be on holiday.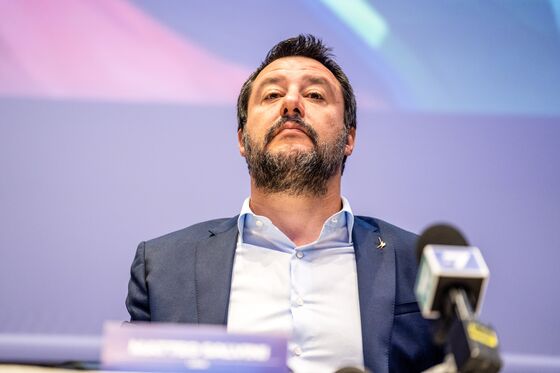 While nothing has been decided yet, the League leader has never been so close to allowing the government to collapse, a senior party official said Friday, asking not to be named discussing internal matters. Most of Salvini's advisers are in favor of early elections, the official said.
Salvini's plan would be to seek an early election but to wait as long as possible to leave less time for his coalition partner, Luigi Di Maio, and Mattarella to come up with a response before August holidays, according to two people briefed on Salvini's strategy.
At the moment, next week is seen as the most likely moment in which Salvini could pull the plug on the government, the people said.
The spread between Italy's benchmark 10-year bonds and German debt of similar maturity widened almost 10 basis points to 195.5 basis points. Shares slid in Milan, with the benchmark FTSE MIB index down 1.7% to 21,715.
Tensions between Salvini and Di Maio have been rising in recent days as the window closes to force an early vote in the fall. With Italy under pressure from the European Union to reduce its debt next year, Salvini would need to set the wheels in motion as soon as possible to give the next administration time to draw up the 2020 budget.
Rome's political class was gripped on Thursday by reports that Salvini had asked to see Mattarella at his Quirinale Palace -- that was taken as a sign he was ready to quit the government.
The League leader may be tempted by polls that show the League remains the country's top political force, with no effect so far from reports that his party sought illegal funding in Moscow. Salvini has denied receiving any Russian money.
Salvini is also fed up with Five Star blocking all the party's policy initiatives, the official said, and is convinced Di Maio's party has been exploiting the so-called Russiagate scandal for political gains.
Di Maio, who's a deputy premier alongside Salvini, is trying to persuade his partner to stick with the government, aware that his party faces a potential thrashing if the country goes to the polls. Di Maio on Friday insisted the government will continue and called for a meeting with Salvini to clear the air.
"I rule out that there could be a crisis, these are the dynamics of a government made up of two different forces," Di Maio said on Rai state television.
Salvini is already due to skip Friday's cabinet meeting in Rome, citing a prior engagement. If he snubs his partner's call for talks as well, that may be another indication that the administration is coming apart.
Most experts agree that a national election this year would need to be held before the government begins work on its 2020 budget in the fall. Italian law also stipulates that 45-70 days are needed between elections being called and the actual vote.
In reality, 60 days could be a minimum because of time needed for Italians living abroad to be included in voting.
The League's view is that the earlier Italy goes to new elections the better, according to the party official, citing concerns on the government's ability to draw up a viable new budget with Five Star, given the two parties' differences on spending priorities.