Salvini Calls Merkel 'Weak' and Forecasts Losses for Macron
(Bloomberg) -- Italian Deputy Prime Minister Matteo Salvini is ramping up his attacks on the European establishment.
Amid mounting tensions with France, Salvini predicted that he could have "new counterparties" in Paris or even Berlin after May's European election and accused French President Emmanuel Macron of letting down his voters.
"It seems to me that Macron has his issues with millions of French to whom he made promises and did not deliver," Salvini said in an interview with Rai 1 radio station. "Merkel is weak."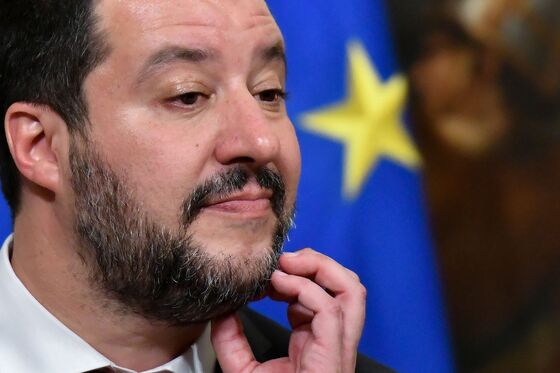 Salvini and his coalition partner-cum-rival, Luigi Di Maio of the Five Star Movement, are competing for support in May's European parliamentary elections as evidence grows that their confrontation style is hurting the Italian economy. The Bank of Italy has cut its growth forecasts and signaled that the euro region's third-biggest economy might have slipped into recession at the end of 2018.
Earlier this week, the French government summoned the Italian ambassador after Di Maio said that France "never stopped colonizing Africa" and is contributing to the waves of migration by holding back Africa's economic growth.
With nationalists across Europe looking to deal another blow to mainstream leaders in May's ballot, Macron is facing another challenge from Marine Le Pen whom he beat in the 2017 presidential election.
Salvini insisted that the clash with France will have no impact on a business dossier including the possible sale of troubled airline Alitalia SpA, and of naval company Fincantieri SpA, which has a cooperation agreement with France's Naval Group.
But Germany is also starting to show its frustration with Italy.
Late Tuesday, Berlin suspended its participation in Operation Sophia, a joint naval deployment by European Union members to combat human trafficking across the Mediterranean, according to Germany news agency DPA. Germany won't dispatch another vessel when the frigate patrolling the Libyan coast ends its tour early next month.
The decision was prompted by Italy's refusal to allow refugees to disembark in its ports, DPA said.
"If Germany leaves the mission it is not a problem for me," said Salvini, who took the decision to close Italian ports as interior minister. "All the migrants are arriving in Italy anyway."