Salvini Suffers Defeat as Italian Premier Dismisses Adviser
(Bloomberg) -- Matteo Salvini, Italy's most powerful politician, suffered his worst defeat in just under a year in government after his rival and coalition partner convinced the country's prime minister to oust an economic adviser to Salvini.
Premier Giuseppe Conte, supported by ministers from the anti-establishment Five Star movement, pushed a decree through the cabinet to remove Armando Siri amid a corruption probe. Five Star leader Luigi Di Maio and Salvini, who share power as deputy prime ministers, have spent most of their time in office squabbling over everything from taxes to regional autonomy to chemical castration for sex offenders.
While Wednesday's decision marks a new low in the fractious relations between Salvini's League party and Five Star, the "day of reckoning" that Italian media had speculated about now looks likely to be postponed until after European Parliament elections in late May.
The yield differential between Italian and German 10-year bonds is widening again after the latest round of tensions between the League and Five Star. The spread was at about 268 basis points, up 3 points, at 3:40 p.m. in Rome.
The decision to remove Siri marks a break with the politics of the past, Di Maio said during a news conference after the cabinet meeting. "Politics needs to act before the law does," the Five Star leader said, to remove any questions of corruption. Five Star has long campaigned for cleaner government.
Still, Di Maio reiterated that the government will serve its full term and said he backs a League proposal for a so-called flat tax. The Five Star leader also said he's ready to discuss Italy breaching European Union rules on a 3 percent budget deficit-GDP limit, echoing remarks by Salvini on Tuesday that unsettled markets.
While Salvini and Di Maio are accustomed to locking horns, the League leader's relations with Conte may now also be compromised, with some party officials saying they no longer trust the premier to act as a neutral mediator between the two sides.
The League opposed revoking Siri's mandate, but has "taken note of" the prime minister's decision, a party official said. There should not be an automatic assumption of guilt just because a probe is opened, the official said. Siri has denied any wrongdoing.
Salvini told reporters after the cabinet meeting with the prime minister that he and the League have no lessons to learn on political morality. "Our candidates are unblemished," he said.
Though Conte is not a member of either of the ruling parties, Five Star named him on a list of possible ministers before the 2018 national elections. Any action by the prime minister favoring Five Star was always likely to provoke the rightist League.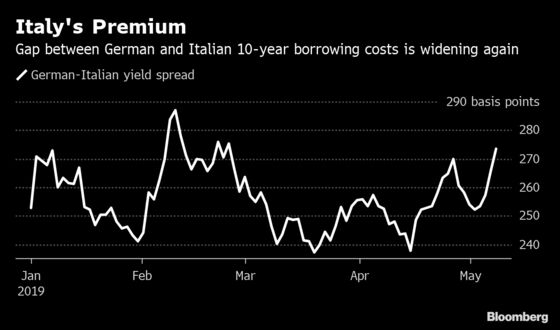 Wednesday's cabinet clash comes in the wake of a warning from the Brussels-based European Commission, which said Italy's fiscal situation will worsen this year and next because a pickup in the economy won't be strong enough to stop its debt and deficit rising. Salvini and Conte both issued blunt responses, with Five Star charging that the EU is out to get the populist government.
The cabinet decree calling for Siri's removal next goes to President Sergio Mattarella for formal approval.