Salvini Rushes Back to Rome to Tackle Coalition Tensions
(Bloomberg) -- Italian Deputy Premier Matteo Salvini is breaking off from speaking events in northern Italy, where his party will fight a regional election Sunday, to return to Rome and tackle mounting tensions in the populist coalition.
While Italian markets tumbled Friday with the European Union shaping up to reject Italy's 2019 budget, Salvini was embroiled in a spat with his coalition partner, Luigi Di Maio of the Five Star Movement, over tax policy.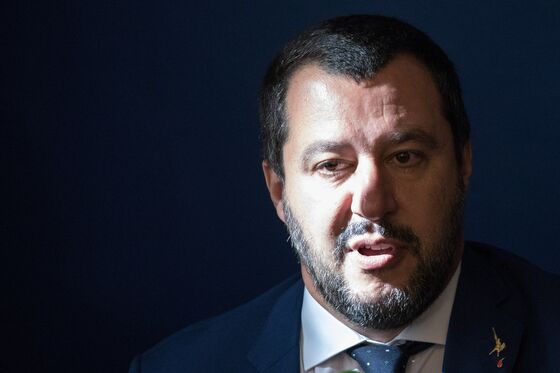 Di Maio has accused Salvini's pro-business party, the League, of secretly sweetening a tax amnesty proposal that he'd only grudgingly agreed to in the first place. Salvini has denied any such thing ever happened and is flying back from Trentino near the border with Austria to thrash out the issue at a cabinet meeting in Rome at 1 p.m. on Saturday.
"Our enemies are outside, not inside the government -- let's talk about this as a family," Salvini said in a Facebook Live video. Some Five Star lawmakers are acting as if they were in opposition to the government, he added.
The administration is coming under fire from investors and the EU. With bond yields climbing, the 2019 spending program was attacked by several European leaders at a summit in Brussels this week as the European Commission warned that its budget draft won't fly.
"If one breaks these rules and Italy diverges from Maastricht, then that means Italy is endangering itself and of course endangering others," Austrian Chancellor Sebastian Kurz told reporters Friday, referring to the Maastricht Treaty which governs the single currency. "We as the European Union are not prepared to take on this risk."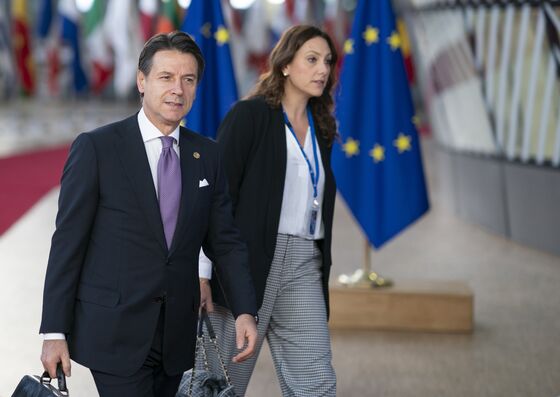 The spread between Italy's 10-year bonds and similar German maturities reached a five-year high of 341 basis points on Friday after Premier Giuseppe Conte failed to convince his European partners that Italy should be allowed to flout the EU's fiscal rulebook.
Italy was not on the agenda of the EU summit but its EU-skeptic stance on migration and above all its budget defiance came up in all the briefings by leaders. While Conte was arguing Italy's case in one-on-one talks with German Chancellor Angela Merkel, French President Emmanuel Macron and Dutch Prime Minister Mark Rutte, the EU Commission dispatched a letter to Rome saying its spending plans were excessive. It gave the government until Monday to provide an explanation for the "obvious significant deviation" from the rules.
"We all know the situation is delicate, and we have no interest in creating further tensions," EU economics Commissioner Pierre Moscovici told reporters at an event in Rome. "The ball is in the court of the Italian authorities."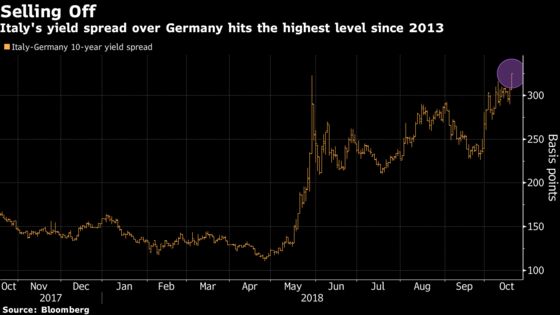 Di Maio and Salvini, the two party leaders who control the government's lawmakers, have both ruled out making any changes to the budget as they seek to deliver on election promises including a "citizen's income" for the poor, tax cuts and a lower retirement age.
But they are fighting over the planned tax amnesty.
Di Maio on Wednesday said that someone had changed the language in the government's draft decree to allow Italians to get around the 100,000-euro ($115,000) limit that his party had insisted on. The League had pushed for a ceiling of 1 million euros, according to local press reports, and Di Maio was clearly pointing the finger at Salvini's team.
Conte, the prime minister, said in a Facebook post that debate between the different coalition groups was at times "vibrant" but the government has "proved it is able to work as a team."
Salvini initially refused to change his schedule to attend the meeting but finally agreed, saying at a campaign event that differences should be resolved "as a family." The League leader is rustling up support for an election in Trentino-Alto Adige on Sunday which he hopes to use to his advantage if the League performs well.