Italy Populist Defeated in Key Vote, Lifting Conte Coalition
(Bloomberg) -- Italy's Matteo Salvini suffered a stinging loss in a key regional vote, providing a much-needed boost to Prime Minister Giuseppe Conte's fragile government and making a snap general election less likely.
Interior Ministry figures showed a center-left bloc led by the Democratic Party, or PD -- a partner in Conte's ruling coalition -- at 51.3% in Emilia-Romagna, a long-time leftist stronghold. A center-right group headed by Salvini's anti-migrant League trailed at 43.8%.
Read More: Italy 10-Year Yield Falls Most Since August on Salvini Defeat
Salvini had hoped that taking Emilia-Romagna would deal a death blow to Conte's government and force an early national election that he would likely win. Instead, Sunday's defeat for the populist firebrand, after a failed power grab last year, settled nerves in the market and yields on Italian 10-year government fell the most since August 27.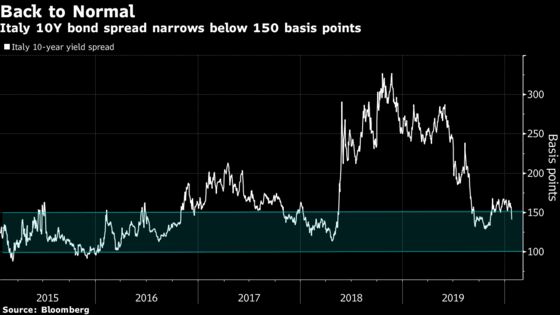 Investors have been closely watching the vote, spooked by the possibility that a Salvini government would clash with the European Union and give a prominent role to euroskeptic lawmakers within the ranks of his League party.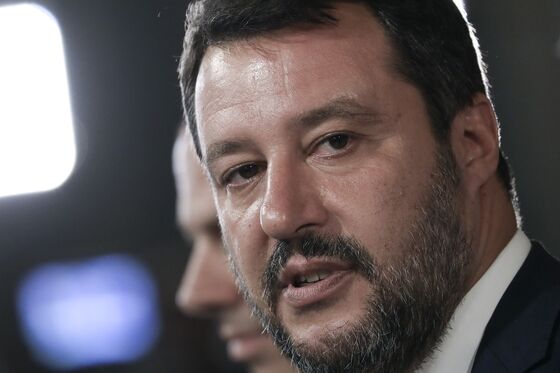 Turnout at almost 70% appeared to favor the center-left. The anti-Salvini grassroots movement known as "the Sardines" had filled city squares in recent months and mobilized young voters.
With their mission accomplished, the Sardines leaders said in a Facebook post that they plan to return to their normal lives and won't be speaking to the media about the election.
Meanwhile, support for the Five Star Movement, Conte's main coalition partner which won more than a third of the votes in national elections in 2018, collapsed to about 5%, according to projections.
The dismal result could shift the balance of power within the government, with Five Star possibly toning down its populist demands on issues from toll-road licenses to judicial reform. Five Star Foreign Minister Luigi Di Maio quit as party leader on the eve of the vote and the movement's implosion seems set to accelerate.
Read more: Salvini Defeat Lifts Cloud Hanging Over Italian Assets
Democratic Party leader Nicola Zingaretti claimed victory in the early hours of Monday, saying that thwarting Salvini will give fresh impetus to Conte's government, while warning that the balance of power could be changing in the coalition.
"A bipolar system is coming back into play, with two main forces fighting over leadership," the PD leader said, in comments cited by Ansa news agency. "The Movement finds itself faced with this dilemma, though I say this as an ally, not an adversary."
Conte plans to set out a detailed plan for his cabinet's priorities in coming weeks, including tax cuts, boosting private and state investment and speeding up the sclerotic justice system.
Salvini said he was proud that the election was close despite Emilia-Romagna being a traditional stronghold of the center-left. He could take comfort in the result in a separate, less significant vote in Calabria, where a rightist coalition led by the League comfortably defeated the incumbent Democrats. Polls had shown Salvini's forces comfortably ahead in the southern region.
Salvini, 46, campaigned tirelessly across prosperous Emilia-Romagna, with up to a dozen campaign stops a day. He even pledged to head straight for Conte's official residence in Rome and serve him an eviction notice if his group won Sunday's ballot.
Salvini has been trying to cash in on the lead he's held in national opinion polls since last summer, when he abandoned Conte's first coalition. That ploy backfired when Conte managed to cobble together a new alliance without the League.
Nationally, surveys show support for the League at about 31%, and for the three-way center-right bloc at 48%. The Democrats are at 19% while Five Star has 16%, half the score it achieved when it won the 2018 general election.