Salvini Says Italian Spread Won't Touch 400 in Dare to Investors
(Bloomberg) -- Italian Deputy Premier Matteo Salvini said he is "absolutely sure" the spread between Italian and German bond yields won't reach 400 basis points, signaling his determination to ride out the market storm triggered by his government's budget plans.
Salvini, leader of the anti-migrant League, and Luigi Di Maio of the anti-establishment Five Star Movement both insisted Wednesday that they'll stick to their costly election promises as the 10-year spread, a key gauge of financial strain, touched 308 basis points. The last time the gap reached 400 was in 2012 at the height of the European debt crisis.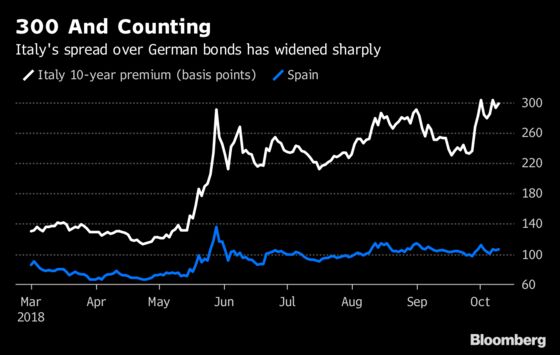 "Should I change my policies -- my agreement with Italians -- on the basis of what some speculators decide in the morning? No," Salvini said in a television interview with state broadcaster RAI. Asked whether he is confident the 10-year yield spread won't pass 400 basis points, Salvini replied: "Absolutely sure."
"Financiers speculate and profit on the backs of the people," Salvini said, adding that government policy won't be "dictated" by foreign investors or European Union commissioners.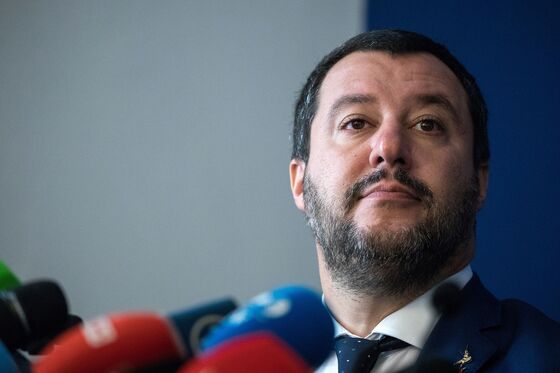 Italian bonds dropped from the open Wednesday with investors disappointed there's still no sign that the government in Rome will back down. Ten-year yields rose 5 basis points to 3.53 percent, though still short of the four-and-a-half year high of 3.71 percent touched Tuesday.
One additional risk for Italy is that bond rating agencies downgrade the government's debt, triggering further selling. Moody's Investors Service is due to review Italy, which has a negative outlook, before the end of the month while S&P Global Ratings's review is due Oct. 26. Both rate Italy two notches above junk.
Mark Zandi, chief economist at Moody's Analytics Inc., a sister company of the ratings agency, branded Italy's fiscal plan "a mistake" in an interview with newspaper La Stampa.
"It's logical to expect that the concerns on Italy expressed by the markets in recent days will also be reflected in the next assessments by ratings agencies," Zandi said. The plan is "gambling with Italy's long-term economic and fiscal health," he added.
Salvini brushed off the market concern, as he has done repeatedly in the past.
"I remember they did this in the past," Salvini said. "Investigations by some courageous prosecutors certified that ratings cuts were completely groundless and some people profited from them."
Salvini has been dismissing financial markets reaction to the coalition since at least August. And the spread has continued to increase.
As government leaders, analysts and the Italian media begin to home in on the 400 basis point level, JPMorgan Chase & Co. warned that it could be the "pain threshold" for the government's survival. Signs of strain have emerged in recent months between Five Star and the League over their diverging political priorities.
"Our base case is still that the government will last at least until the next European election," strategist Marco Protopapa wrote in a note to clients. "However, a more adverse market reaction and/or weaker output and employment growth could trigger a government crisis already at the beginning of 2019."
Di Maio, who is also a deputy premier, sounded a more conciliatory note, saying the administration aims for dialogue with all European Union institutions, though he insisted the government won't be intimidated by the markets.
"Too many people in the Italian establishment are rooting for the spread to reach 400, because this story of the spread hitting 400 is a way to terrorize citizens," he said on RAI radio. "Our objective is not the spread, but the citizen."