South African Lawmakers Back Preliminary Probe Into Graft Ombudsman
(Bloomberg) -- South Africa's National Assembly agreed to conduct a preliminary assessment of the controversial anti-graft ombudsman's fitness to hold office, the latest step in a lengthy process that could determine whether she's fired.
A multi-party lawmakers' panel will consider whether there are grounds to press ahead with a formal inquiry into whether Public Protector Busiswe Mkhwebane should be removed on grounds of misconduct, incapacity or incompetence, the assembly decided at a hearing in Cape Town on Tuesday. That probe would be the precursor to a vote to remove her, a decision that will require backing from two-thirds of lawmakers.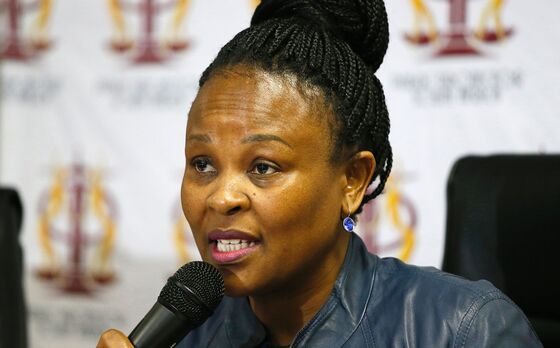 Since her appointment in 2016, Mkhwebane has had several of her rulings overturned by the courts and been accused of taking sides in factional battles within the ruling party -- an allegation she denies. She's also been a thorn in President Cyril Ramaphosa's side, instituting a probe allegations that he misled lawmakers about a campaign donation.