South African Court Orders Ex-Minister to Pay Costs Over Grants Saga
(Bloomberg) -- South Africa's top court ordered former Social Development Minister Bathabile Dlamini to pay a portion of the costs related to legal processes stemming from a dispute over the country's welfare-grants system, which distributes almost 150 billion rand ($10.6 billion) a year.
The Constitutional Court will also send documents to the National Prosecuting Authority to determine whether Dlamini lied under oath and should be prosecuted for perjury, after she submitted false information to the court, Judge Johan Froneman said in a ruling delivered Thursday in Johannesburg.
Dlamini last year took responsibility for the welfare department's failure to find a new service provider to handle grants payments, after the Constitutional Court ruled in 2014 that a contract with Net 1 UEPS Technologies Inc. to handle the payouts was invalid. The social-security payments are the biggest government initiative to help alleviate poverty in South Africa, amid high unemployment, slowing economic growth and high inequality.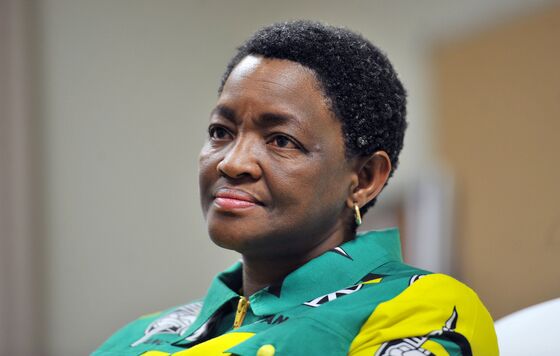 "Her conduct was reckless and grossly negligent, all that is sufficient reason for a personal cost order," Froneman said, holding Dlamini personally liable for 20 percent of the costs of the legal processes. The costs application was brought by South African advocacy groups Black Sash and Freedom Under Law.
Dlamini was dismissed as head of the social development department in a cabinet reorganization in February, after Cyril Ramaphosa replaced Jacob Zuma as president. She is currently the minister of women's affairs.
The Centre for Applied Legal Studies, which brought the the matter before the Constitutional Court on behalf of the Black Sash, welcomed the ruling.
"The judgment sets an important precedent for holding public officials accountable for their reckless and negligent actions in executing their duties," Wandisa Phama, acting deputy director at CALS, said in an emailed statement. "This is a step towards ensuring that a similar crisis never happens again."
Vuyani Ngalwana, Dlamini's personal lawyer, didn't answer his mobile phone or respond to a text message when Bloomberg sought comment.