South Africa Failure to Act on Graft Weighs on Business Confidence
(Bloomberg) -- South Africa's lack of decisive action in dealing with corruption and maladministration is weighing on business sentiment, according to the country's chamber of commerce.
An index measuring business confidence retreated to 95.1 in January from 95.2 the previous month, the South African Chamber of Commerce and Industry said in an emailed statement Wednesday. The gauge jumped to two-year high early in 2018 after President Cyril Ramaphosa won the leadership of the ruling African National Congress and the country, raising hope that years of economic mismanagement and alleged graft under his predecessor was over.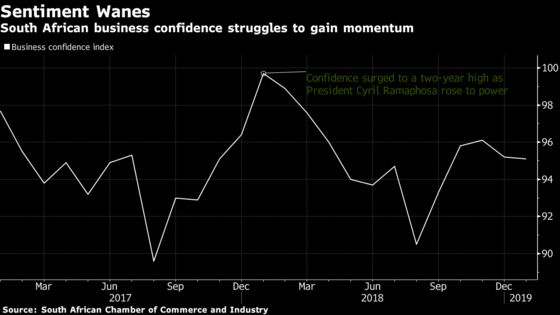 While investigations into state corruption under former President Jacob Zuma grip the nation and have implicated government officials and business people in graft involving billions of rand, the prosecuting authority is yet to act on most of this. The arrest on Wednesday of seven people including officials from Bosasa and former prisons department commissioners, after weeks of revelations at a commission of inquiry is one of the first such moves.
A "lack of action against those implicated by maladministration and a continuing uncertain economic-policy environment did not benefit the business climate," Sacci said. Dealing effectively with institutions and individuals involved in "adverse business practices in the public domain becomes an important element for restoring confidence," the chamber said.