Russian Analyst Arrested in Probe by Trump-Era Special Counsel
(Bloomberg) -- U.S. authorities arrested a Russian analyst Thursday who contributed to an unverified dossier written in 2016 that alleged cooperation between Donald Trump, his presidential campaign and the Russian government. 
Igor Danchenko, who's based in the U.S., was taken into custody as part of a broad, continuing investigation by Special Counsel John Durham. He was released on $130,000 bond and will be arraigned on Nov. 10, according to the Justice Department.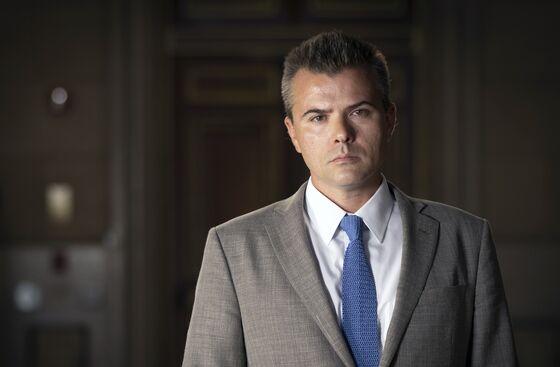 The indictment filed Thursday says Danchenko "lied to FBI agents" during interviews, including about his contacts with a "long-time participant in Democratic Party politics." 
Danchenko helped compile the "Steele dossier," named after former British spy Christopher Steele. The unverified reports included in the 35-page dossier alleged that Russia was "cultivating, supporting and assisting" Trump for at least five years and fed his campaign "valuable intelligence" on Democratic opponent Hillary Clinton. 
Durham is investigating the origins of the FBI's probe into whether Trump or anyone associated with his campaign conspired with Russia to interfere in the 2016 election.
Trump has repeatedly called the dossier a "complete fraud," and Republican lawmakers have long maintained that Democrats tied to Clinton were behind it. The indictment alleges a key source for Danchenko's information was a Virginia-based public relations consultant who had worked on Bill Clinton's presidential campaigns and was an adviser to Hillary Clinton's 2008 presidential campaign. 
Late Thursday, Ralph Martin, a lawyer for Washington-area public relations executive Charles Dolan, confirmed that Dolan is the consultant identified as "PR Executive-1" in the indictment. Martin declined to elaborate, saying,  "As he is a witness in an ongoing case, it would not be appropriate for Chuck to comment further on the allegations in the indictment at this time."   
Steele relied primarily on Danchenko, who worked as a Russian analyst in Washington for many years, to collect information that formed the core of allegations in the dossier, according to the 39-page indictment.
Danchenko faces five counts of making false statements to the FBI during interviews about the contents of the dossier, all stemming from alleged misrepresentations he made about the source of his information. Four of the counts relate to assertions that information he got came from a Russian Chamber of Commerce executive, whom the indictment alleges he had never spoken with.
The indictment also may put to rest the most sensational allegation made in the dossier, concerning a visit Trump supposedly made to a Moscow hotel in 2013. It said that Danchenko later visited that hotel and got a tour of the presidential suite, where a staff member told him that Trump had stayed. But the indictment cites others who were there as saying "the staff member did not mention any sexual or salacious activity."
A lawyer for Danchenko, Mark Schamel, didn't immediately respond to a request for comment.
In an interview last year with the Guardian, Danchenko said he was in hiding and feared for his life after congressional Republicans unmasked him. Danchenko said he was a victim of a smear campaign by Republicans who called him a Russian spy and accused him of feeding disinformation to Steele.
Danchenko wouldn't discuss his Russian sources or methods, but he said, "I stand by my raw intelligence."
As part of the inquiry, Durham in September indicted a lawyer with links to Democrats and Hillary Clinton over allegations that he made a false statement to the FBI in 2016. 
The lawyer, Michael Sussmann, met with the FBI's then-general counsel in September 2016 to convey information that might have indicated a covert communications channel between the Trump Organization and a Russia-based bank. 
Sussmann told the FBI official that he wasn't providing the allegations on behalf of any client, prosecutors said. However, the indictment alleges that "Sussmann assembled and conveyed the allegations to the FBI on behalf of at least two clients, including a U.S. technology executive and the Clinton presidential campaign." Sussman has denied the charges.