Putin's Agents Fuel Crackdown Fears With Reporter Treason Case
(Bloomberg) -- Days after a controversial vote that handed President Vladimir Putin the ability to prolong his rule up to 2036, his security service is fanning concerns about a crackdown after authorities accused a prominent former journalist of treason.
The allegations against Ivan Safronov, who regularly broke news on sensitive arms deals while working for the Kommersant newspaper and was an aide to the head of Russia's state space agency for the past two months, are part of an escalating number of espionage cases in the past decade.
Investigators allege Safronov was recruited by Czech intelligence in 2012 and five years later provided them classified information on Russia's arms trade and other military issues that Prague passed on to the U.S., his attorney Ivan Pavlov said, citing case documents. "They were following him from 2018 and possibly earlier," Pavlov said in a telephone interview.
Tuesday's arrest came less than a week after the result of a referendum in which Putin secured a resounding backing of constitutional changes allowing him to run for two more six-year terms despite falling popularity. Amid growing discontent at the economic pain caused by the Covid-19 pandemic and a plunge in oil prices, the high-profile prosecution has heightened fears of repression.
"The Kremlin is feeling a lot more uncertain than 18 months ago," said Mark Galeotti, a senior associate fellow at the Royal United Services Institute in London who's an expert on Russian security affairs. The targeting of Safronov "is intended as a signal to others -- it sends a chilling message."
Safronov denies the charges, according to Pavlov. For most of the last decade, Safronov covered military and security issues for Kommersant, where he was known for his well-connected sources on defense contracts and other sensitive subjects. Earlier this year, he left journalism to become chief media adviser to Roscosmos head Dmitry Rogozin, a former deputy prime minister.
His detention led to an outcry in the Russian media, with several journalists and other supporters detained by police for protests outside the headquarters of the Federal Security Service in Moscow. Major outlets including RBC, Vedomosti and Kommersant issued public statements saying they didn't believe the charges against him and warning that the prosecution amounted to an effort to criminalize the work of journalists. Convictions in spy cases have grown steadily in recent years, but rarely involved reporters.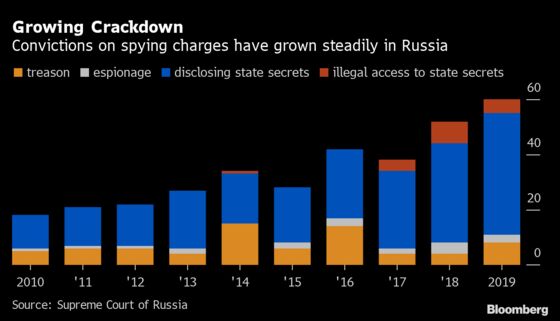 Grigory Pasko, a journalist who was jailed on espionage charges in the 1990s and is now director of the Investigative Journalists' Union, called the case "a clear manifestation of the attack on journalists."
Safronov "covered very sensitive topics" like arms sales, where the security services "want journalists to write only what they're told," he said. The treason statute, broadened in 2012, is "universal, it could be applied to anyone" since it doesn't require that suspects have security clearances or official access to state secrets, he said.
The editor-in-chief of state-run channel RT and Russia Today media holding, Margarita Simonyan, warned that the way the law is written "makes it easy to become a spy by accident." In a social media post, she said, "That's especially easy for a journalist," calling on investigators to make key parts of their case publicly.
Kremlin spokesman Dmitry Peskov praised Safronov's professionalism and said the allegations weren't connected to his work as a journalist. Safronov was a member of the Kremlin pool of reporters who cover Putin for several years during the period he was alleged to have been working for Czech intelligence.
The Federal Security Service didn't respond to a request for comment on the case. State news agencies quoted unidentified sources close to the investigation as saying the allegations were supported by expert testimony and the results of eavesdropping.
The Czech Foreign Ministry and BIS intelligence agency declined to comment.
Pavlov, the lawyer, said investigators alleged Safronov had passed the information to Czech intelligence via the Internet in return for money.
"We didn't see any evidence, although in other cases like this, they usually provided it," said Pavlov, whose firm specializes in the growing number of spy cases that have appeared in recent years. Pavlov said the lead investigator in the case has led several such prosecutions of late.
Alexander Nikitin, who won a rare acquittal in 2000 of charges of spying and treason after he wrote articles on nuclear pollution of the Arctic by Russia's Northern Fleet for the Norwegian environmental group Bellona, said he would never have walked a free man under the rule built by Putin since he came to power two decades ago.
"The security services are reminding people that they exist and are watching them closely," he said by phone.