Rhetoric Intensifies Over Ukraine as Blinken Visits Europe
(Bloomberg) -- Ukraine and Russia ratcheted up their rhetoric as U.S. Secretary of State Antony Blinken arrived in Brussels to discuss the escalating tensions with his European partners.
Meeting with NATO chief Jens Stoltenberg, Ukrainian Foreign Minister Dmytro Kuleba said Russia, which has amassed tens of thousands troops near the two nations' border, is threatening to destroy his country. Kremlin spokesman Dmitry Peskov said Russia poses no threat and urged Ukraine's Western allies to stop it carrying out "provocative actions."
The region is on edge over a Russian military buildup in recent weeks around the conflict that began after President Vladimir Putin annexed Crimea in 2014. With Putin's intentions unclear, the fear is that even a low-level skirmish could reignite more serious fighting. The war over the status of two breakaway regions in Ukraine's east has already cost more than 13,000 lives.
"Russia has to understand that Ukraine belongs to the world of democracies, to the Western world -- this is the very clear message NATO can send to Russia," Kuleba said. "Ukraine isn't part of the Russian world and will never be considered as such."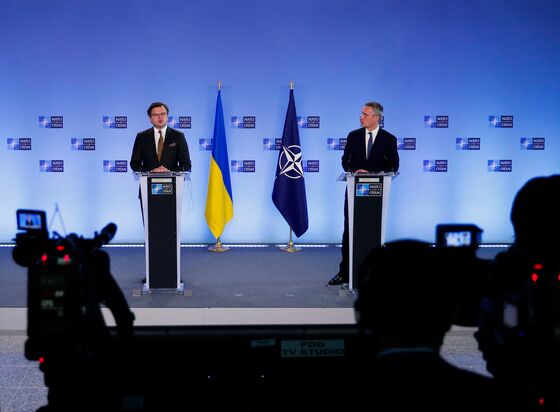 NATO joined the Group of Seven nations and the European Union in calling for Russia to de-escalate.
"These large-scale troop movements, without prior notification, represent threatening and destabilizing activities," G-7 and the EU said. "We call on Russia to cease its provocations and to immediately de-escalate tensions."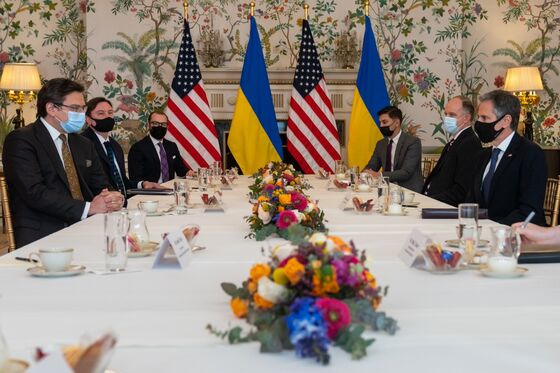 Blinken warned at the weekend of consequences if Russia acts recklessly or aggressively. The Kremlin, which accuses its neighbor of planning a new military offensive to regain control of the Russian-speaking Donbas region, called the U.S.'s deployment of warships to the nearby Black Sea "extremely provocative."
"Any threat only reinforces our conviction that we're conducting the right policy," Russian Deputy Foreign Minister Sergei Ryabkov said. "We're just defending our interests and the interests of our citizens, the Russian-speaking population."
Defense Minister Sergei Shoigu later said Russia's actions are also a response to "threats" by NATO, which Ukraine hopes to join. He did, however, hint at an easing of tensions to come, saying some military readiness checks will end in the next two weeks.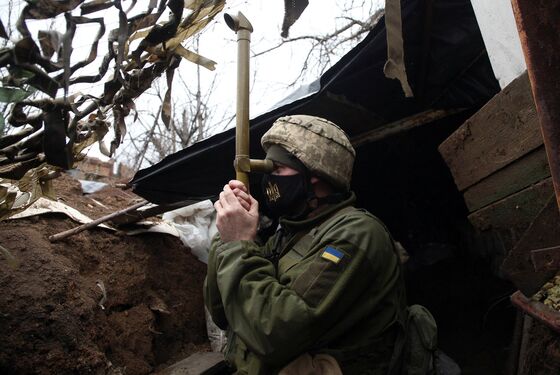 Dmitri Trenin, director of the Carnegie Moscow, said the "war scare" is likely over, but that frayed nerves may remain for some time. "The high level of tension in the region is now the new normal," he said Tuesday in a report.
Ukraine rejects suggestions it's planning an offensive and is urging more Western sanctions growing if Putin makes a move to tighten control over the breakaway regions.
Meanwhile, diplomacy continues to avoid a resumption of the large-scale fighting a 2015 peace accord ended.
Before Blinken met Kuleba Tuesday, he promised discussions this week on Ukraine's "Euro-Atlantic aspirations," reaffirming the U.S. "stands firmly behind" the country's sovereignty and territorial integrity.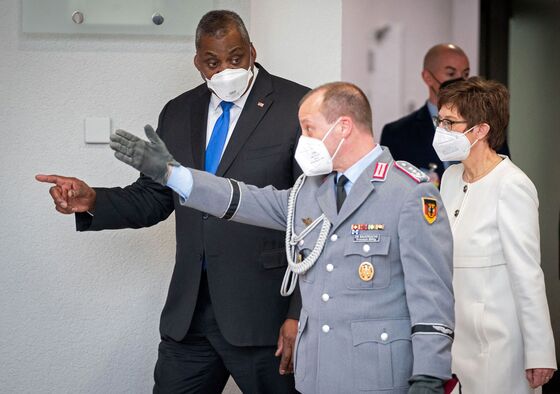 In Berlin, Defense Secretary Lloyd Austin told his opposite number that the U.S. will station an additional 500 troops in Germany -- a message "that we support NATO in the fullest extent."
But without the prospect of a Western military response, Russia won't be deterred from moving against Ukraine, according to James Sherr, a senior fellow at the International Centre for Defence and Security in Tallinn, Estonia, who's advised governments on Russia's defense strategy.
"Sanctions don't offer any significant deterrent," he said. "The incentive to use military force rises when they perceive their opponent is weak and there's no one standing behind them."
Concern over fresh sanctions did manage to send the ruble to its lowest level against the dollar since November last week. Ukrainian assets suffered too: the yield on the government's dollar bond due 2026 reached its highest since November.