Russia Faults Israel Over Syria Plane Downing But Keeps Calm
(Bloomberg) -- President Vladimir Putin sought to lower tensions after a Russian reconnaissance plane was downed mistakenly by Syrian forces fighting off an attack by Israeli warplanes even as his Defense Ministry warned it may respond to "hostile" actions by Israel.
The incident was the result of "a chain of tragic coincidences" and can't be compared to a 2015 episode in which Turkey downed a Russian warplane, sparking a yearlong breach in ties, Putin told a briefing in Moscow Tuesday. "The Israeli plane didn't shoot down our plane," Putin said. The Russian leader said his country will bolster security at its bases in Syria.
The plane's loss came a day after Russia called off a campaign against the last major opposition-held area in Syria, preventing for now an escalation in the seven-year war, after Putin and his Turkish counterpart Recep Tayyip Erdogan reached a deal.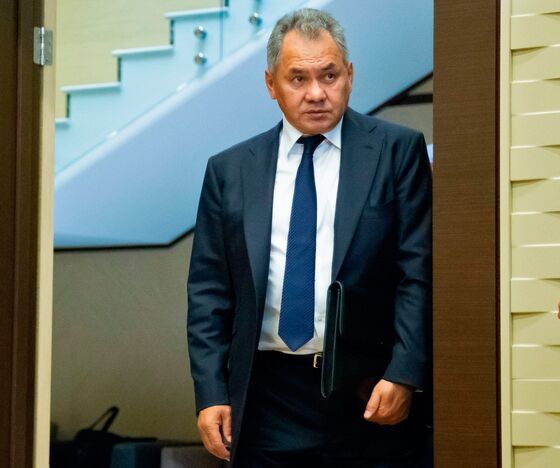 Since sending forces to support the regime of Syrian President Bashar al-Assad in 2015, Russia has been a dominant player in the conflict, at times struggling to manage the competing interests of the other powers there. Russia has kept close ties with Israel, despite its regular attacks on the Moscow-backed regime in Syria.
Russian Defense Minister Sergei Shoigu blamed Israel's "irresponsible" actions for the death of the servicemen in a call with his Israeli counterpart, Avigdor Liberman, Tuesday, according to the ministry. It said Syrian forces mistakenly downed the Il-20 reconnaissance plane with an S-200 air-defense missile as they attempted to fight off an attack by Israeli planes.
Israel's military laid the blame on Syrian forces, which it said "fired indiscriminately and from what we understand, did not bother to ensure that no Russian planes were in the air." The warplanes were already back in Israeli airspace when "extensive and inaccurate" Syrian anti-aircraft fire hit the Russian plane, it said.
In a phone call with Putin later, Israeli Prime Minister Benjamin Netanyahu expressed regret for the deaths and offered to send his air force chief to Moscow to help with the investigation, Israeli media reported.
In Moscow, amid the anger, there were expectations the fallout may be minimized. While trust between the Russian and Israeli military will suffer as a result, the two countries "have a lot of common interests, especially in Syria," said Andrei Kortunov, head of the Russian International Affairs Council, a research group set up by the Kremlin.
Israel regularly attacks Iranian-backed targets inside Syria, with Russia usually refraining from any action.
Kremlin spokesman Dmitry Peskov said the downing of the plane won't affect the "landmark" deal reached over Idlib Monday.
The Syria pact with Erdogan came just over a week after Putin rejected the Turkish leader's call for a cease-fire in the area and is the latest example of the Kremlin's tense balancing act among the rival factions in the Syrian conflict.
With the regime closing in on Idlib, the last major opposition-held region, tensions among the outside powers involved in a crowded battle space have spiked. U.S. President Donald Trump warned of a "human tragedy'' and his aides threatened military action. Erdogan said an attack by Syrian forces and their Iranian backers would cause "a lake of blood." That appears to have swayed Putin to back a compromise that at least puts off the offensive but shifts the burden to Erdogan to deal with the thousands of jihadists holed up in the region.
The two leaders announced their accord on Idlib after talks in the Black Sea resort of Sochi. Only limited details were made public. The two agreed to deploy forces to patrol a new demilitarized zone separating Syrian forces from opposition groups dominated by jihadists. Assad's forces would call off their offensive, Russia said.