Russia Sanctions Unlikely to Pass Congress Before November
(Bloomberg) -- The U.S. Congress is unlikely to pass any new sanctions on Russia, including proposals that would affect its sovereign debt and energy projects, until after the November elections.
The House is likely to go on recess by the end of the week and not return until after Nov. 6 balloting, according to a Republican aide and a lawmaker. No bills on sanctions against Russia are scheduled for votes before then.
The delay means more uncertainty for investors trying to assess the market impact of a multitude of measures under proposal in the U.S. as punishment for alleged election meddling. Foreigners unwilling to wait and see which sanctions will eventually make it into law have pulled more than $7.5 billion out of Russia's sovereign debt market since April.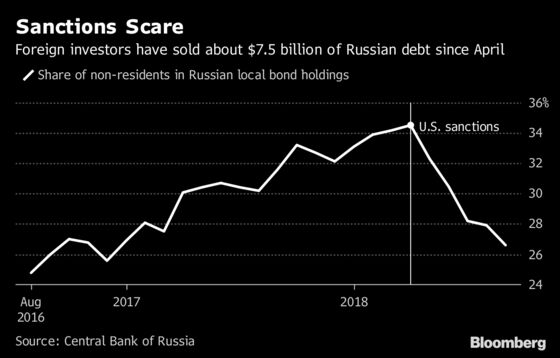 The measures, which have gained bipartisan support, are likely to come up after lawmakers return. The Senate could take up sanctions before the elections but nothing would get sent to President Donald Trump for approval until after House passage.
"There's a realistic chance the Senate can pass this bill before the elections," said Senator Chris Van Hollen, a Maryland Democrat and co-sponsor of a bipartisan bill that would trigger new sanctions on energy and financial sectors if the director of national intelligence determines Russia is continuing to interfere. "Clearly the House is a different situation."
Russia's benchmark stock index jumped on the news that the bill will probably be delayed, climbing 1.4 percent by 3:30 p.m. in Moscow. Yields on 10-year government bonds dropped nine basis points to 8.55 percent, the lowest level in six weeks.
"The delay is obviously good news for the market" said Alexey Pogorelov, an analyst at Credit Suisse Group AG in London. "The initiative in Congress had a lot of support but it seems to have lost momentum. The question now is whether the agenda will be the same after the mid-term elections."
The proposals have mushroomed after reports of Russia's ongoing efforts to sway U.S. elections and attempted hacks targeting U.S. senators, and following intelligence agencies' conclusion that Russia sought to meddle in the 2016 presidential election. Lawmakers from both parties also have been sharply critical of Trump's meeting with President Vladimir Putin in Helsinki in July, saying the U.S. leader hasn't done enough to hold Russia accountable.
Van Hollen said that the two main sticking points on the bill he's backing are concerns over sanctions on government bonds and the energy sector. He said the sovereign debt measure has already been modified to apply sanctions only to new bond issues. The draft also includes restrictions on top state banks that could shut them out of the international financial system.
A separate proposal in Senate, dubbed the "bill from hell," would also target Russia's debt and state banks, while imposing new sanctions on oligarchs and political figures who aid corrupt activities on Putin's behalf, and requiring the State Department to determine whether Russia should be designated as a state sponsor of terrorism. The measures would take effect upon passage of the law, but Senate leadership has suggested this plan would be watered down if it were to come up for a vote.
The delays facing the congressional proposals don't affect a separate package of sanctions the administration is due to impose without legislative approval. Those are part of the response to a nerve-agent poisoning in the U.K. in March and could hit near the end of November, possibly adding limits on trade, diplomatic ties and air service.