Russia's Butina Tells Judge She Wants to Change 'Not Guilty' Plea
(Bloomberg) -- Maria Butina, the Russian gun-rights activist who befriended leaders of the National Rifle Association and the Republican Party and then was accused of acting as an undeclared agent of the Kremlin, has decided to change her plea of not guilty.
In a court filing early Monday, Butina's lawyers asked a federal judge to convene a hearing for her to change her plea, signaling she might admit guilt. She pleaded not guilty in July after her arrest on charges of conspiracy and allegations she was acting as an unregistered agent of a foreign government.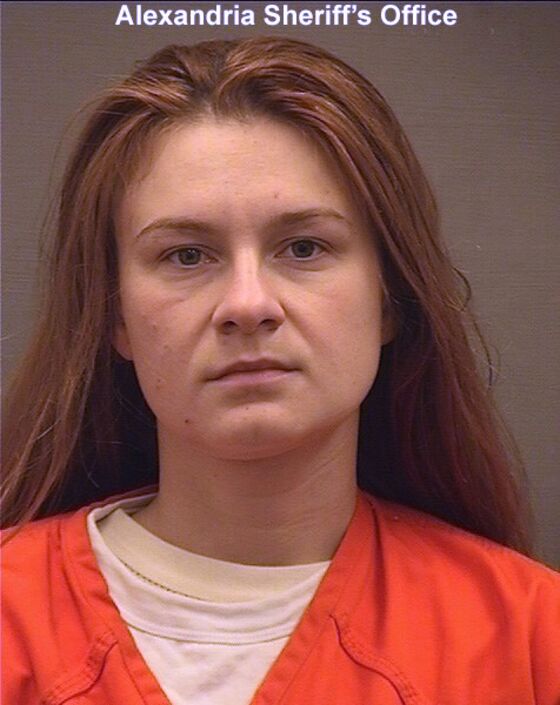 "The parties have resolved this matter," her attorneys said in single-page document filed jointly with federal prosecutors. Butina's lawyers declined to comment on the request. Judge Tanya Chutkan in Washington has scheduled that proceeding for Dec. 12.
If Butina pleads guilty, that doesn't mean she's cooperating. It also won't necessarily lead to a prison sentence. In a similar case in 2010, Anna Chapman and nine other "sleeper agents" working secretly in the U.S. on behalf of Russia pleaded guilty and were sent back to Moscow as part of a prisoner exchange.
According to an FBI affidavit filed as part of her arrest, Butina spent several years working to cultivate relationships with key members of the NRA along with national figures in the Republican Party.
While she was studying in the U.S. on a student visa in 2016 and 2017, the FBI said, Butina was actually working to advance the interests of Russia, reporting in regularly to an unnamed senior government official.
In the run-up to the 2016 U.S. presidential election, Butina emerged as a kind of gadfly, chatting with Governor Scott Walker of Wisconsin at an NRA convention in 2015 and attending the launch of his presidential campaign a few months later.
Later that year, at a town-hall-style forum in Las Vegas, Butina asked then-candidate Donald Trump whether he, if elected, would improve the deteriorating relationship between the U.S. and Russia. Trump said he did think his election would improve the relationship.
The Butina investigation was undertaken by the Justice Department's national security division and isn't part of Special Counsel Robert Mueller's investigation of Russian interference in the 2016 election.
Butina was first charged in July with conspiring to defraud the U.S. Days later, that initial criminal complaint was upgraded to a two-count indictment accusing her of entering the U.S. under the guise of a student visa to advance Russian interests and reporting her progress to an unnamed Russian official later identified as Alexander Torshin, who was deputy governor of Russia's Central Bank.
A former Russian senator with alleged criminal ties, Torshin is under U.S. government sanctions. Butina was accused of attempting to set up unofficial lines of communication for him with U.S. politicians and political organizations. To do so, she ingratiated herself with the NRA, where she and Torshin are lifetime members.
Butina, 30, entered a not guilty plea at a July 18 hearing for which she was denied permission to appear in civilian clothes and then ordered held without bail, prompting the Russian Foreign Ministry to start a "Free Maria Butina" campaign. She's an icon on its Twitter feed to this day.
Prosecutors have said that some of the millions of pages of evidence backing their case against Butina remain under seal because they relate to ongoing investigations.
In court papers, Robert Driscoll, who has been representing Butina, said his client was a legitimate American University student and worked to obtain records from the university to buttress his contention that she appeared and participated in classes there.
On Friday, Chutkan appointed a federal public defender, A.J. Kramer, as advisory counsel after a phone conference with her existing legal team and prosecutors. A transcript of that call has not been made public.
The case is U.S. v. Butina, 18-cr-218, U.S. District Court, District of Columbia (Washington).