Russia Protest Activity Surges Over Pension Reform, Report Says
(Bloomberg) -- The number of protests in Russia nearly tripled in the third quarter from the year before as opposition to the government's plans to raise the pension age spread, according to a study released Thursday.
The jump, spread across the country, led to a "significant" increase in the total for the year to date, the Moscow-based Center for Economic and Political Reforms said. Three-quarters of the actions were motivated by socio-economic issues, with pension reforms the target of 47 percent of them -- a total of 1,174. Political issues were the focus of 16 percent. The majority of the actions were small, involving fewer than 100 people, and most had government authorization.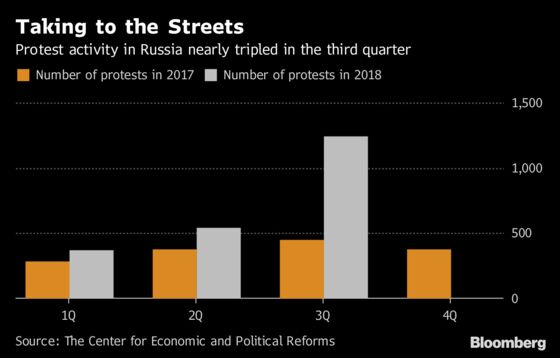 The Communist Party was the organizer of the largest number, followed by allies of opposition leader Alexey Navalny, according to the report. The center bases its statistics on media reports and other open sources.
The government's plan to raise the pension age has led to a sharp drop in Vladimir Putin's approval ratings. The president softened the original proposal slightly amid the opposition, but the main elements were passed into law earlier in the fall.
"It's unlikely that protests linked to pension reforms will continue expanding in the future," said deputy director of the Moscow-based Center for Political Technologies Alexei Makarkin. "But one thing will remain: people have gained experience during these protests so they are likely to react against other irritants more actively."