Russia Urges Major Foreign Aid for Taliban-Ruled Afghanistan
(Bloomberg) -- Russia called for major international aid to help the Taliban control the situation in Afghanistan on Wednesday as it hosted the radical Islamic movement for the first time since the chaotic U.S. withdrawal in August brought it to power.
A meeting in Moscow attended by the Taliban and 10 countries with interests in the region called on the United Nations to hold a donor conference for Afghanistan.
It's time to "mobilize the resources of the international community to provide Kabul with effective financial, economic and humanitarian help," said Russian Foreign Minister Sergei Lavrov. He cautioned, though that a lasting solution to the crisis gripping the country depends on the Taliban inviting other political forces into the government.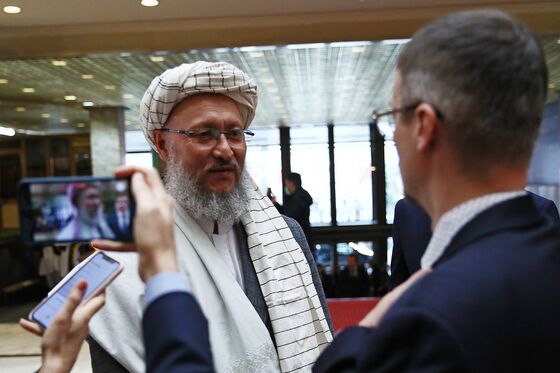 "There is a new administration in power and this indisputable fact puts a great responsibility on the Taliban," Lavrov said. "We note their efforts to stabilize the military-political situation in the country but a lasting peace remains to be achieved. This depends above all on the establishment of a genuinely inclusive government."
While Russia, like China, kept its embassy open in Kabul as Western governments scrambled to evacuate their diplomats, it hasn't recognized the Taliban's rule as it continues to push for wider participation in the governing of the country. The interim government is dominated by Taliban hardliners.
A deputy prime minister of that government, Abdul Salam Hanafi, said that the new authorities in Kabul tried to include "all ethnic groups and factions of Afghan society" in the ruling body. Hanafi said they are ready to further adjust the political structure and called on the international community to accept the legitimacy of the Taliban's rule.
The U.S, which previously took part in the so-called "Moscow Format" talks, didn't participate this time because of the resignation of U.S. envoy to Afghanistan Zalmay Khalilzad. He's been replaced by his deputy, Tom West.
Russian President Vladimir Putin has urged the U.S. to gradually unfreeze Afghan assets, warning that the lack of funds may push the Taliban into arms- and drug-trafficking.
The European Union earlier this month announced a billion euro ($1.16 billion) emergency humanitarian aid package.
Putin last week told counterparts from the ex-Soviet Union that there's a real threat of an upsurge in extremist activity in the region following the Taliban takeover. Russia estimates that there are 2,000 Islamic State fighters massed in northern Afghanistan whose leaders are planning to spread their influence to central Asian states and Russian regions, he said.
Amid security fears, Russia is organizing an evacuation flight for its citizens, the state-run Tass news service reported, citing the Russian ambassador in Afghanistan.