Russia Hit by EU Sanctions Tied to 2018 Salisbury Poisoning
(Bloomberg) -- Russia was targeted by the European Union's first sanctions for chemical weapons' use as the bloc retaliated over the attempted murder of a former Russian spy in Britain last year.
The EU on Monday imposed asset freezes and travel bans on four Russian officials deemed to have played a role in the near-fatal poisoning of Sergei Skripal and his daughter in the English city of Salisbury in March.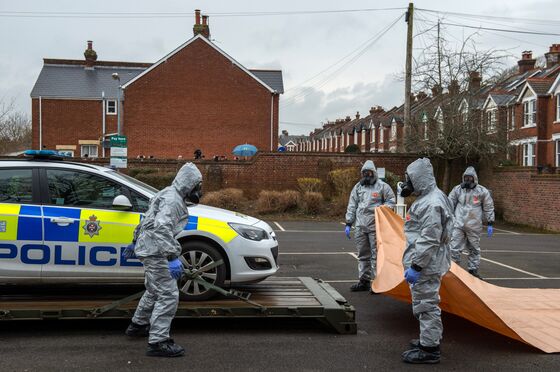 All four officials are connected to the Russian military's main intelligence agency, known as the GRU. They are its head, Igor Kostyukov, first deputy head Vladimir Alexseyev and two officers -- Anatoliy Chepiga and Alexander Mishkin -- alleged to have used the weapons-grade nerve agent "Novichok" in Salisbury after transporting it there.
The Russian government, which has denied responsibility for the Salisbury attack, called the EU sanctions move "illegitimate" and left open the possibility of a tit-for-tat response. "We reserve the right to retaliate against this unfriendly action," the Foreign Ministry in Moscow said in an online statement.
The penalties approved in Brussels by foreign ministers from the 28-nation EU also target the Syrian regime, which has been fighting an eight-year civil war.
The bloc imposed asset freezes on five Syrian officials tied to the country's Scientific Studies and Research Centre, which is responsible for the development of chemical weapons, and an asset freeze on the center itself.