Rubio Says U.S. Must Skip Saudi Investment Event Over Khashoggi
(Bloomberg) -- Treasury Secretary Steven Mnuchin should skip a high-profile investment conference in Saudi Arabia this month until the fate of missing Washington Post writer Jamal Khashoggi has been determined, Florida Senator Marco Rubio said.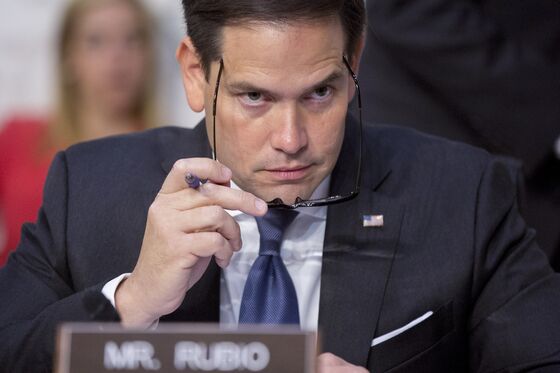 "I don't think he should go," the Florida Republican said on CNN's "State of the Union," one of three appearances on Sunday morning political shows. "I don't think any of our government officials should be going and pretending as it's business as usual until we know exactly what's happened here."
Mnuchin's still planning to travel to Saudi Arabia to attend the three-day Future Investment Initiative in two weeks intended to showcase Prince Mohammed bin Salman's modernization plan for the desert kingdom but is evaluating it, White House economic director Larry Kudlow said on ABC's "This Week." The event is nicknamed "Davos in the Desert."
Khashoggi, a Saudi critic of the regime, hasn't been seen since he entered the Saudi consulate in Istanbul on Oct. 2 to pick up a document for his upcoming wedding. Turkish officials say they have audio and video recordings that show a Saudi security team detained Khashoggi in the consulate before killing him and dismembering his body, the Post reported. Saudi officials say Khashoggi left the building unharmed.
In an excerpt of the "60 Minutes" interview to be broadcast in full on Sunday night, Trump said that "nobody knows" whether Saudi officials are involved, although they "deny it vehemently."
"We're going to get to the bottom of it, and there will be severe punishment," the president said in the CBS interview, which was taped on Thursday. "Could it be them? Yes."
If the allegations are proved true, the U.S. response needs to be "very strong and meaningful -- it can't be symbolic, it can't just be words,'' said Rubio, a member of the Senate Foreign Relations Committee.
Trump on Saturday said it would be "foolish" to cancel large U.S. arms sales to Saudi Arabia in response to the controversy and instead suggested unspecified "very, very powerful, very strong, strong measures."
Rubio agreed with Trump on the importance of maintaining arms deals, saying it's not about the money but that military sales provide leverage because they require ongoing replacement parts and training.
Still, Rubio said ending arms sales shouldn't be taken off the table, and that the U.S. won't be able to confront Russian President Vladimir Putin and other authoritarian regimes around the world if it doesn't act in the face of clear evidence Khashoggi was murdered.
"There's not enough money in the world for us to buy back our credibility on human rights if we do not move forward and take swift action on this if in fact, if and when it's proven to be true,'' Rubio said on CBS's "Face the Nation."