Rouhani Says 'Spiteful' U.S. Government Seeks Iran Regime Change
(Bloomberg) -- Iranian President Hassan Rouhani said the Trump administration is "spiteful" toward the Islamic Republic of Iran with the intention of bringing in a regime change.
Rouhani said the U.S. is pushing for new leadership in Iran using "psychological and economic warfare," according to a report in the state-run Iranian Students' News Agency.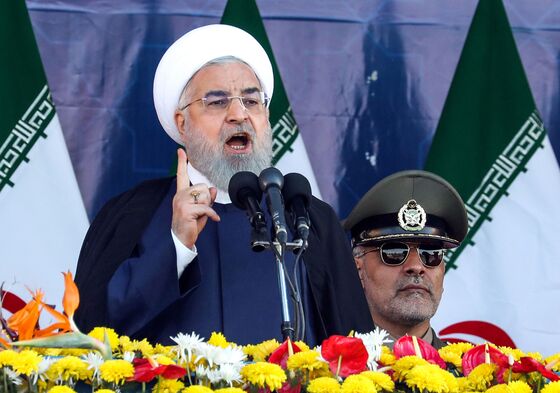 "In the past 40 years, there hasn't been a more spiteful team confronting Iran, Iranians and the Islamic Republic regime than the current one in the U.S.," Rouhani said on Sunday. "There has been animosity but it would be one person and others would be moderate, but now the worst have gathered in the White House."
In May, Trump exited a nuclear accord, reached between Iran and world powers under his predecessor. The U.S. has started restoring sanctions that had been lifted as part of the accord to which Iran has so far remained committed. Trump's stated aim is to force Iran's leaders into a new agreement that also curbs their regional power.
The Trump administration expected that "Iran too would announce it's leaving" imminently following the U.S.' exit, but Iran "showed wisdom and didn't rush," Rouhani said. "We can leave the nuclear deal anytime we want. That's not an issue. Leaving is like breaking down a wall, it's easy to tear it down; building it up is what's difficult."