Rouhani Warns Europe Over Mideast Role as Ties Sour on 2015 Deal
(Bloomberg) -- Iranian President Hassan Rouhani warned European countries that their soldiers in the Middle East could be exposed to greater danger in the future if instability fueled by the presence of their American counterparts continues.
Europe's ties to Iran risk becoming collateral damage in the spreading confrontation between Tehran and Washington. Germany, France and the U.K. on Tuesday started formal action against the Islamic Republic for breaching restrictions on uranium enrichment set out in the 2015 nuclear accord, which has been crumbling since the U.S. withdrew 20 months ago and reimposed sanctions on Iran.
Rouhani said on Wednesday that Iran wanted U.S. forces to exit the region "sensibly" to improve stability, before he extended his caution to Europe.
"Stop making so many mistakes and return," he said in a cabinet meeting broadcast live on TV. "Today U.S. soldiers are in danger, tomorrow European soldiers may also be in danger."
The European powers said their move to trigger the nuclear deal's dispute mechanism aims to turn up the pressure on Iran with the ultimate goal of salvaging the multiparty agreement. But the intervention risks propelling the sides into greater conflict as Tehran struggles to deal with fallout from the U.S. killing on Jan. 3 of its top general, Iran's retaliatory missile salvos and international outrage over the downing of a Ukrainian jetliner by on-edge Iranian security forces.
Iranians have been outraged by the news that their own armed forces -- often boastful of their prowess -- had not only shot down a passenger plane but had concealed the fact from the public for three days. Thousands protested against the leadership in cities nationwide.
The U.K. ambassador to Iran, Rob Macaire, was briefly arrested after attending a vigil for the victims that later morphed into an anti-regime protest. He has left the country to return to London for a routine visit that's not a response to his detention, a person familiar with the matter said.
While accepting responsibility for bringing down the plane and calling on the military to fully explain its actions, Rouhani and other Iranian leaders have blamed the U.S. for creating the conditions that led to it, demanding that American forces end a decades-long presence in the region.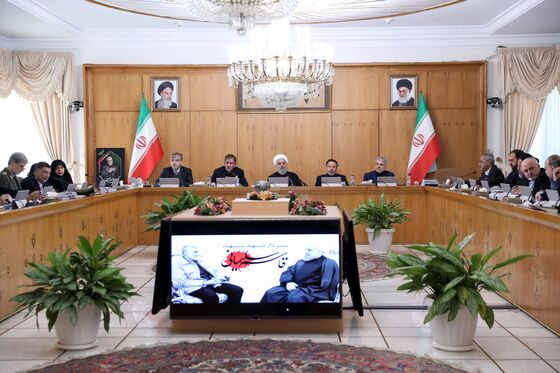 That has been taken up in neighboring Iraq, where Shiite lawmakers with ties to Tehran and the outgoing prime minister called for talks on a mechanism to advance the U.S. departure, but have been rebuffed by Washington.
A commander of Iran's Islamic Revolutionary Guard Corps, Brigadier General Amir Ali Hajizadeh, on Wednesday said officials withheld informing the public that Iranian missiles had hit the jet "in the interests of national security." Separately, the military said it's investigating whether radar interference had a role in the debacle.
The U.S. and Iran have both stepped back from further military conflict as allies in Europe and the Gulf warned over the potentially catastrophic consequences of a broader war.
But the U.S. imposed new sanctions last week and called on European signatories to the nuclear deal to dump the accord and insist on Iran negotiating a new treaty that extends enrichment caps intended to prevent it developing a nuclear weapon.
U.K. Prime Minister Boris Johnson on Tuesday threw his weight behind a new "Trump deal" even as his government has stood by its European allies in seeking to keep the current version alive.
Rouhani dismissed Johnson's idea and urged European countries to reverse their decision to activate the dispute mechanism.
"Mr. Johnson, I don't know what he's thinking when he says that instead of the nuclear deal we should implement a Trump plan. Other than violate international contracts, what else has Trump done?" Rouhani said.