Romanian PM Says He'll Keep Populists at Bay, Despite Virus
(Bloomberg) -- Romania's prime minister is convinced the Covid-19 pandemic, which has triggered the worst economic slump on record, won't stop him forming a solid majority after elections next month.
Speaking in an interview in his Bucharest office, Ludovic Orban said he's confident of keeping populist parties at bay in the Dec. 6 vote. Even so, the crisis has taken a bite out of his Liberal Party's backing: Polls put it in front but only with about 30% support, meaning he'll almost certainly need coalition partners to form a stable government.
"I have faith in citizens' good judgment," Orban said Thursday. "I think they'll realize that we took on the governing of the country in a very difficult period. We had to fight not only the pandemic but also a hostile parliament, and we managed to keep Romania afloat."
Orban has led a minority administration in the eastern European Union member for about a year. That's often proved problematic as the rival Social Democrats, who ran the country earlier, maintained control of parliament. In one instance, they passed legislation increasing pensions that threatens the Balkan country's investment-grade credit rating. They spent freely while in power too -- leaving Orban with the EU's widest budget shortfall when he took over.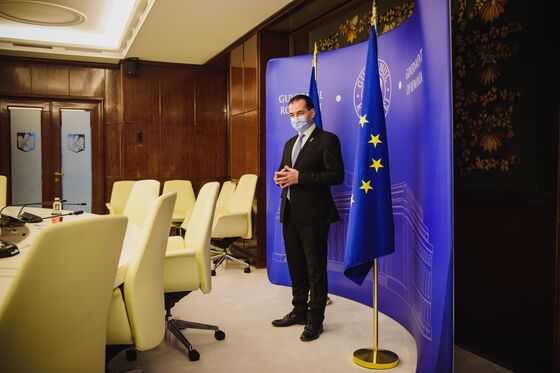 Orban said he'll negotiate about a new ruling alliance with all the parties except the Social Democrats, who "did enough damage to Romania while in office."
He plans to gradually reduce the deficit from 9.1% of gross domestic product this year to about 3% by 2024 and use the 80 billion euros ($95 billion) Romania is set to receive in EU financing to invest in new highways, fuel innovation and upgrade crumbling hospitals -- one of which suffered a deadly fire at the weekend on a ward treating coronavirus patients.
Romania expects next week to receive the first tranche of a 4 billion-euro EU support program to mitigate unemployment risks, known as SURE, according to Orban. His government will also prepare a long-awaited auction for the frequency spectrum needed to roll out 5G wireless networks in accordance with a memorandum signed with the U.S. that bans the use of equipment produced by China's Huawei Technologies Co.