Romania's Orban Faces Confidence Vote He Doesn't Mind Losing
(Bloomberg) -- Romania's minority government is facing a no-confidence vote just three months since taking power, though it's likely to benefit whatever the result.
The Black Sea nation is well acquainted with political chaos, having had more prime ministers than any other European Union member-state in the three decades since communism collapsed.
This time around, the ruling Liberal Party opened the door itself to a confidence motion by fast-tracking legislation that would damage its rivals' chances in local elections in the coming months.
Should the government win the vote -- scheduled for Wednesday -- it will get the chance to make inroads into the support of the opposition Social Democrats at the municipal level.
Should it lose, it will stay on in a caretaker capacity, with President Klaus Iohannis having already said he'd again nominate Prime Minister Ludovic Orban to form a cabinet.
What's more, defeat would move the administration a step closer to its goal of holding a snap general election to capitalize on high scores in opinion polls and build a more sturdy base in parliament.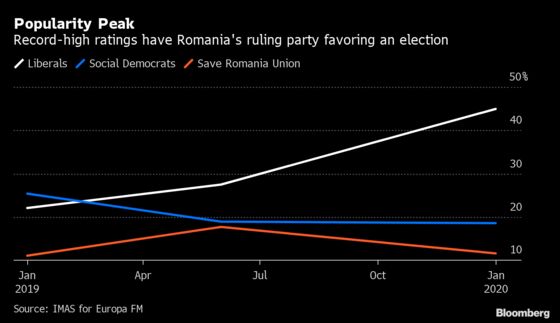 "We're prepared for any outcome," Orban said this week. "Regardless of the result, we'll continue our activity. We're heading to the objective of winning the next elections so we can assure stable and solid governance with wide parliamentary support."
While the Social Democrats say they have the 233 votes needed to oust the government, the result is likely to be very tight. Former Prime Minister Victor Ponta said Thursday that his party will back the no-confidence motion. It's unclear whether all of his lawmakers would fall into line.
If the government is toppled and two cabinets fail to win parliamentary approval within a 60-day period, early elections can be triggered under the constitution.
The interim, however, could be tricky. Investors are wary of a budget deficit that's ballooned beyond European Union limits and slower economic growth -- both of which require the attention of a stable government.
"The probability of early general elections is rising, but complicated constitutional procedures and intense rivalry among key political parties could push the date of such vote into the summer and beyond," said Andrius Tursa, an analyst at Teneo intelligence. "Strengthening electoral considerations will likely lead to chaotic policy making, deepening fiscal problems, and potential government instability in the coming months."