Romanian Government Falls, Bringing Snap Elections Closer
(Bloomberg) -- Romania's minority government was ousted just three months after taking power in a move that pushes the Black Sea nation closer to early elections.
Prime Minister Ludovic Orban's cabinet lost a no-confidence motion in parliament on Wednesday after his Liberal Party sought to fast-track legislation on municipal voting. But it was a calculated step by Orban, who wants to capitalize at the ballot box on his high polling scores.
The government will stay on in a caretaker capacity until President Klaus Iohannis nominates a new premier following consultations with political parties on Thursday. Iohannis has repeatedly said he'll pick his ally Orban again.
"The best solution now is to go back to the voters -- we need general elections to get a parliamentary majority that will build a better economy and improve citizens' lives," Iohannis said on Wednesday. "The first step toward early elections has been taken. The next step is tomorrow."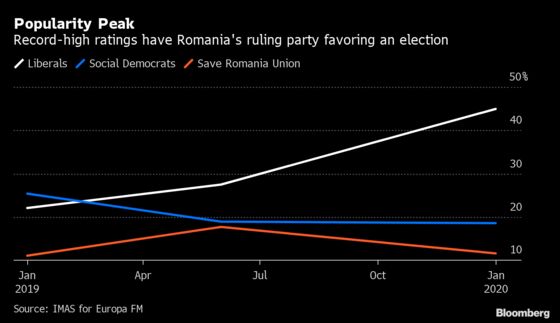 Romania is well acquainted with political chaos, having had more prime ministers than any other European Union member-state in the three decades since communism collapsed. There was little panic among investors, with the leu gaining against the euro in the vote's immediate aftermath.
"The government is landing on its feet," Orban said after the vote. "We're proud of what we managed to do in three months. We repaired the damage done by our predecessors."
Orban has said he'd like to hold a general election at the same time as local ballots due in May or June at which his fast-track bill would have dented the hopes of the opposition Social Democrats.
But bringing the vote forward from the fall isn't a done deal. Achieving that goal still requires two more governments being rejected by parliament within a 60-day period.
"The Liberals need to take full responsibility for the new political crisis which will probably lead to a prolonged period of uncertainty," interim Social Democrat leader Marcel Ciolacu said.
His party will propose ex-Education Minister Remus Pricopie as the next prime minister during talks with Iohannis Thursday, according to Ciolacu.
While the latest political upheaval is being resolved, Romania has issues that could use the attention of a stable government. Investors are wary of a budget deficit that's ballooned beyond EU limits, while economic expansion has slowed.