Romanian Central Bank Rejects Government Fix in 'Greed Tax' Spat
(Bloomberg) -- Romania's central bank rejected a proposal to end its spat over the government's so-called greed tax on lenders, indicating that a resolution is still some way off.
The levy, part of ad hoc revenue-generating measures to keep the budget deficit within European Union limits, triggered the country's worst stock crash since the global financial crisis. The central bank frets that the tax's link to money-market interest rates curbs its ability to conduct monetary policy and is talking to the government about changes.
An adviser to the prime minister suggested Monday that altering how the interbank offered rate, known as Robor, is calculated could resolve the standoff. He argues that lenders artificially set the rate -- which helps determine how much interest Romanians pay on loans and mortgages -- too high, and that lowering it would mean banks never meet the threshold for the tax to kick in.
Lucian Croitoru, a central bank adviser, responded Tuesday by saying that he sees no reason to change the way Robor is calculated, describing the current methodology as in line with the best global standards and practices and any potential reassessment as "pointless."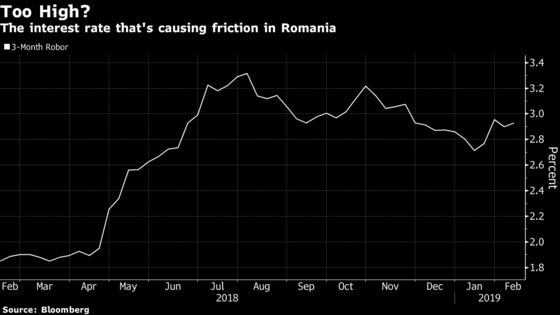 "I suspect there's a misunderstanding or a lack of knowledge at the government level about the way the money market works and how rates are calculated," Croitoru said by phone. Its proposal would make it even more difficult to reconcile price stability and financial stability, he said. "This would put more pressure on banks."
Talks between the central bank and the Finance Ministry will resume on Feb. 18. The bank is urging the link between the tax and Robor to be eliminated.
One solution could be to redesign Robor based on its equivalent in the euro region, according to Laurian Lungu, an economist at the Consilium Policy Advisors Group think tank in Bucharest. The new version of Euribor currently in the works has several additional steps in its calculation, making it harder to manipulate, he said.
"Politically speaking, the government is looking for an elegant solution out of this impasse it has itself triggered," Lungu said.