Romania Unexpectedly Cuts EU's Highest Rate to Boost Economy
(Bloomberg) -- Romania unexpectedly cut interest rates to provide further support to its coronavirus-stricken economy.
The central bank lowered benchmark borrowing costs -- the European Union's highest --- to a record 1.25% at an unscheduled meeting on Friday, the fourth reduction since the pandemic took hold. While gross domestic product has returned to growth, lockdowns are being extended across the continent, with many countries facing a double-dip recession.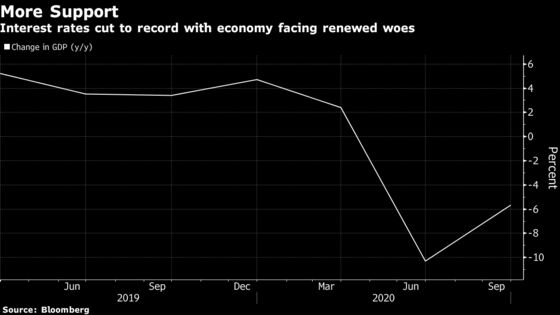 The central bank said in a statement that its board "considers that, given the transmission lags of the policy rate impulses, such a calibration of the monetary policy conduct is likely to provide an underpinning to the recovery of economic activity over the projection horizon."
Read more: Romanian Inflation Eases for Fifth Month, Fueling Rate-Cut Bets
Unlike in Poland, which is seeking to buoy exporters by weakening the zloty, Romania targets a stable exchange rate against the euro. It's kept borrowing costs high to preserve ammunition should the Covid-19 crisis worsen.
The leu was little changed after Friday's surprise.
The rate cut follows a reduction in minimum reserve requirements for commercial lenders in November. Romania is also looking to protect the investment-grade ratings on its sovereign credit, with the government that took power in December pledging to bring the budget deficit back inside the EU's limit of 3% of GDP by 2024, down from over 9% last year.
The central bank said that, due to the pandemic, scheduled monetary-policy meetings would remain suspended for now. Meetings will happen "whenever necessary," it said.