Romania to Dial Back Tax Plans After Greed Levy Backlash
(Bloomberg) -- Romania plans to ease a financial tax that crushed local stock markets, drew a rebuke from the central bank and threatened to dent the country's creditworthiness.
The government will approve amendments to the so-called greed tax on banks, according to Prime Minister Viorica Dancila, who refused to give details. Earlier Monday, Finance Minister Eugen Teodorovici said state debt and some other loans would be exempt from the tax on bank assets. He sought to quash talk of a credit-rating cut by S&P Global Ratings.
The government has rattled companies, investors and the public with ad hoc taxes aimed at narrowing the budget deficit. Initial estimates indicate the package would raise 10 billion lei ($2.4 billion) in additional revenue in 2019, about 4 billion lei from the bank tax alone. But one problem is how the measures would affect banks' holdings of government debt, which are among the highest in eastern Europe.
"We plan to have the bulk of the talks about potential changes to the fiscal plan this week," Dancila told reporters in Bucharest. "Any changes may be enforced via one government decree to avoid passing one decree on top of another."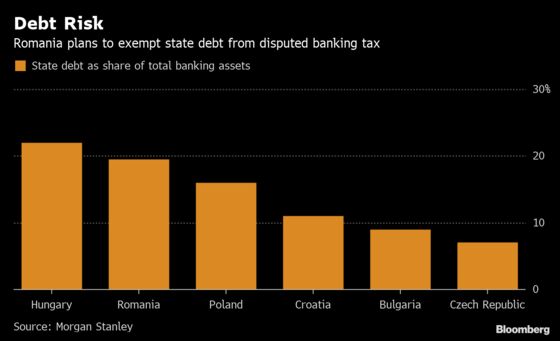 The greed tax is one of the reasons that prompted S&P Global Ratings to lower the outlook on Romania's credit assessment to negative from stable. S&P said Friday that the government had appealed the decision and that the matter should be resolved within two weeks. Romania's debt is rated BBB-, S&P's lowest investment grade.
"Romania could escape a downgrade of its S&P rating outlook if the amendments materialize like they were announced," said Stephan Imre, a Vienna-based economist at Raiffeisen Bank International AG.
Teodorovici said the asset tax wouldn't apply to state treasury instruments, loans to small- and medium-sized companies and loans for investment. Ruling-party leader Liviu Dragnea said he's not against amendments to the fiscal plan as long as the principles behind it remain, namely that natural-gas prices stay unchanged and banks lend more actively.
The European Commission also weighed in on the tax controversy last week, criticizing the government's measures. The EU executive said Romania has made little progress on cracking down on corruption and continues to focus on short-term wage gains and household consumption instead of long-term infrastructure.
The government is holding talks on Tuesday about potential amendments with officials from the seven private pension funds that were also targeted by a controversial overhaul via the fiscal plan.
More discussions with telecommunications and energy companies will follow in the next few days. The plan also set a 2 percent tax on the energy companies' revenue, which prompted OMV Petrom SA, the nation's biggest company, to put on hold a final investment decision on its Neptun gas development in the Black Sea.
"If we're to invest further billions of euros into project Neptun, we need a reliable tax framework," OMV Chief Executive Officer Rainer Seele was quoted by Germany's Handelsblatt newspaper as saying on Tuesday. "We stand by Romania as a place to do business, but our loyalty can't be a one-way street."