Romania's New Coalition Agrees on Premier, Ending Deadlock
(Bloomberg) -- Romania's two largest parties agreed to form a government, putting aside years of feuding to end a three-month long political crisis that has crippled the nation's efforts to slow the raging coronavirus pandemic.
Nicolae Ciuca, 54, a retired army general backed by both parties, was officially designated prime minister by President Klaus Iohannis on Monday. His new cabinet will face a confidence vote in parliament on Thursday. 
"We now have a solid coalition in parliament and we'll put together a government to bring stability," Ciuca said. "We'll have solutions to tackle the effects of the pandemic and the energy crisis."
After weeks of wrangling over taxes and social spending, the Liberals and Social Democrats hammered out a new ruling coalition that needs to significantly narrow the budget deficit and boost a slowing economic recovery.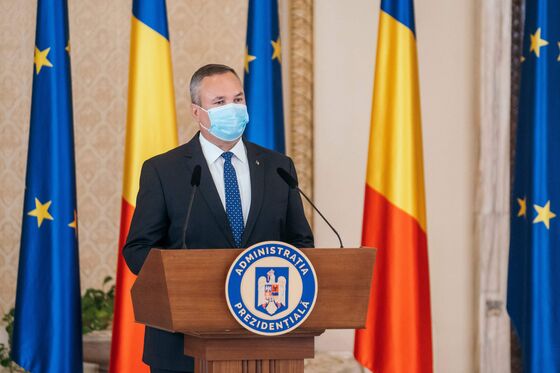 Economist Andrei Caciu is proposed to take over the Finance Ministry, and Catalin Predoiu will come back as Justice Minister. Virgil Popescu will stay on as Energy Minister. 
The two sides also decided to rotate prime ministers ever year and a half. Ciuca is a member of the Liberal Party.
But it remains to be seen how long a united alliance will last, as the parties have different views on many issues, including fiscal policy. Most governments in Romania collapse within a year.