An Underdog Prosecutor Faces an Uphill Battle for a Top EU Job
(Bloomberg) -- Want the lowdown on European markets? In your inbox before the open, every day. Sign up here.
For a prosecutor with an uncommon record of putting corrupt politicians behind bars, the former head of Romania's anti-graft agency is facing one more hurdle than her rivals: the opposition of her own government.
Laura Codruta Kovesi, who was fired by Romania's ruling Social Democrats after she put dozens of corrupt politicians behind bars, tried to convince European Union lawmakers in Brussels on Tuesday to support her bid to become the EU's first chief prosecutor after the bloc's governments endorsed a French rival for the job. Kovesi appeared before the responsible European Parliament committee, which plans a vote on Wednesday.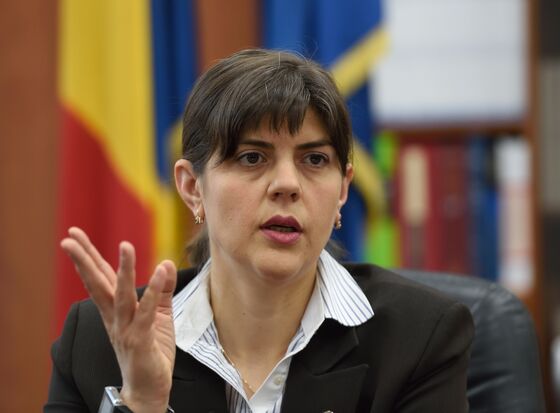 The public session also featured Jean-Francois Bohnert, a Frenchman who won the backing of EU governments on Feb. 20, and Andres Ritter from Germany. Bohnert received almost twice as many votes from member states last week as Kovesi and Ritter did.
"We will not be pressured by the Romanian government into rejecting Ms. Kovesi, but at the same time I don't think we should turn her nomination into a political statement," Sophie in 't Veld, a Dutch member of the EU Parliament's Liberal group, said by telephone before the hearing. "We will look at all three candidates objectively."
A final decision on the appointment requires an agreement between EU governments and the 28-nation assembly. The EU Parliament has criticized Romania's government for eroding the rule of law and urged more top European jobs to be filled by women, making Kovesi a potentially useful political weapon as the assembly gears up for elections in late May.
"I am used to dealing with public pressure and working under stressful situations," Kovesi said on Tuesday at the hearing organized by the committee on civil liberties, justice and home affairs. "I believe that a prosecutor must aim for the truth, must be a servant of the rule of law and must have a strong moral compass."
The committee is scheduled to vote on the three candidates on Wednesday at 11 a.m. Its recommendation will go to the EU Parliament's steering group -- composed of the president and the leaders of the political groups -- for deliberations slated for March 7.
Feeding into the process will also be an opinion on the candidates by the assembly's budgetary-control committee, which plans a vote on Tuesday evening.
The administration in Bucharest has followed its regional counterparts in Hungary and Poland in pursuing an overhaul of its legal system despite criticism from opposition figures and EU officials that it's undermining the rule of law. Prime Minister Viorica Dancila said Kovesi isn't Romania's proposal for European prosecutor.
"There are many jobs obtained by Romanians without having the support of the government," said Dancila. "I don't want to talk about this subject since she's not our nominee."
Kovesi become the first high-powered target of a newly formed office established by the government to investigate magistrates of the court. The body has opened a probe into allegations of abuse of office, bribery and false statements. While she denies any wrongdoing, Kovesi said the probe will affect her chances for the EU prosecutor job.
"It's obvious that, through this probe, they're trying to eliminate me from the process, to prevent me from getting the job, because I think I have a chance," Kovesi said earlier this month. "I'm innocent and I'll try to explain this to the lawmakers. I'll continue my road. Corruption can be defeated."