Romania's Anti-Corruption Crusader Scores Win in EU-Job Bid
(Bloomberg) -- A Romanian anti-graft crusader won support from a key panel of European Union lawmakers to become the bloc's first chief prosecutor, highlighting EU concerns about the erosion of democracy in the country.
Laura Codruta Kovesi, who was fired by Romania's ruling Socialist Democrats after she put dozens of corrupt politicians behind bars, gained the backing of the European Parliament's committee on civil liberties, justice and home affairs for the EU appointment.
The committee voted on Wednesday in Brussels for Kovesi over two rival candidates: Jean-Francois Bohnert of France and Andres Ritter of Germany. The recommendation sets up a clash with EU governments because they've endorsed Bohnert for the job, which will involve investigating and prosecuting crimes such as fraud against the bloc's 140 billion-euro ($160 billion) annual budget.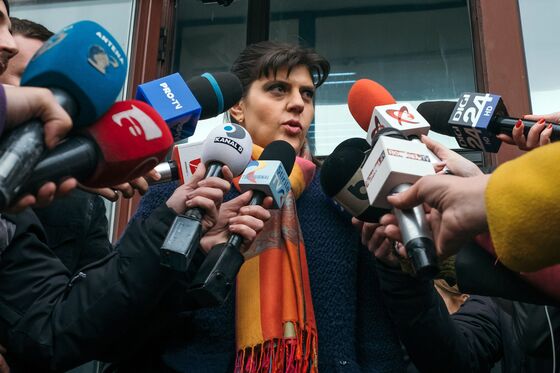 "It's going to be a very challenging discussion," Claude Moraes, chair of the EU Parliament committee, said in an interview after the verdict. Kovesi received 26 votes compared with 22 for second-place Bohnert, who nonetheless last week received almost twice as much backing from EU member countries as she did.
The support for Kovesi in the EU Parliament shows how concerns about disregard for the rule of law in member countries, especially in former communist eastern Europe, have risen to the top of the European political agenda. Romania has followed Hungary and Poland in pursuing judicial overhauls that have caused alarm across Europe.
The 28-nation Parliament also has called for more top European jobs to be filled by women, adding to Kovesi's ability to be a useful political weapon as the assembly gears up for elections in late May. The Romanian government opposes her bid.
"Kovesi's record speaks for itself and her selection as European chief public prosecutor would make sure this new position is held by someone with outstanding experience, expertise and endurance," Ska Keller, co-leader of the Greens in the European assembly, said in an emailed statement.
Romania's main opposition Liberal Party hailed the verdict on Wednesday in Brussels and urged the administration in Bucharest to rally behind Kovesi.
"Today's vote is a victory, but it needs all the officials and politicians in Romania to work together, at least at the eleventh hour, to ensure she gets the post," Liberal party chief Ludovic Orban told reporters in televised remarks in the Romanian capital.
Kovesi presented herself as hard-nosed, independent and principled when promoting her candidacy at an EU Parliament hearing on Tuesday. She reacted to Wednesday's verdict by painting its significance in broader terms.
"This vote isn't just for me; it's for all the Romanian citizens who supported the rule of law and the fight against corruption and for all the prosecutors and judges in Europe who work under pressure," Kovesi told reporters in televised comments in Bucharest.
A final decision on the appointment of European chief prosecutor requires an agreement between EU governments on the one hand and the 751-seat Parliament on the other. The president of the assembly and the leaders of its political groups are scheduled to discuss the matter on March 7.
Feeding into the process -- and offering further momentum for Kovesi -- is an endorsement of her on Tuesday evening by the EU Parliament's budgetary-control committee.
Still, Moraes signaled the lingering obstacles ahead for her by saying EU governments have traditionally been reluctant to compromise over their decisions in the area of justice.
"National sovereignty has always been very protected," he said. "This is a really sensitive and important position."