Trump Ally Roger Stone Arrested in Florida as Part of Special Counsel Probe
(Bloomberg) -- Roger Stone, a longtime Republican strategist and sometime confidant of President Donald Trump, was charged with obstructing Special Counsel Robert Mueller's investigation of Russian interference in the 2016 U.S. election and lying about his communication with WikiLeaks.
The indictment says Stone served as a link between the Trump campaign and the release of Democratic National Committee emails stolen by state-sponsored Russian hackers to embarrass Trump's opponent, Hillary Clinton. It also provides yet more examples of alleged witness tampering and cover-up in the Mueller investigation, which has resulted in seven guilty pleas or convictions and more than two dozen other charges.
The filing lays out how Stone, after leaving Trump's campaign in 2015, continued communicating regularly with unnamed senior campaign officials about an organization matching the description of WikiLeaks -- and how a "senior Trump campaign official was directed to contact Stone." The indictment suggests that Mueller knows who those officials are and is examining the roles they played.
Some of the communications occurred in the summer of 2016, when WikiLeaks began publishing Democratic emails that Mueller has previously alleged were obtained by Russian government hackers in an effort to interfere with the presidential election.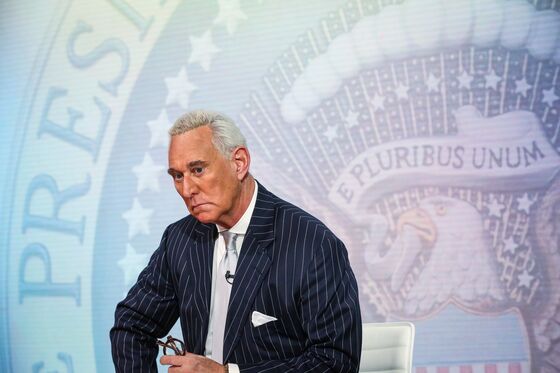 Stone was released on a $250,000 bond Friday after appearing before U.S. Magistrate Judge Lurana S. Snow in Fort Lauderdale, Florida. His indictment was assigned to U.S. District Judge Amy Berman Jackson, the same judge who is presiding over one of two cases against former Trump campaign chief Paul Manafort.
Stone, 66, faces seven counts: one count of obstruction of an official proceeding, five counts of false statements, and one count of witness tampering, according to the U.S. Justice Department.
"Mr. Stone was not charged with collusion, which is what everyone had accused him of," Stone's lawyer, Grant Smith, said in a written statement. "If the government had that evidence, they would have presented it. There was none."
"The only reason Mr. Stone was charged is his 40-year friendship with the president," Smith said.
It's possible Mueller could bring new and more serious charges against Stone unless he cooperates. In other cases -- against Manafort, the former Trump campaign chief, and aide Rick Gates -- the special counsel added new charges after plea talks broke down.
Gates later cooperated with Mueller and is free on bail after testifying against Manafort, while Manafort remains jailed after losing a tax-evasion and bank-fraud trial. The former campaign chief is due to appear in federal court in Washington later on Friday.
"The specific charges that have been brought against Mr. Stone have nothing to do with the president," the White House press secretary, Sarah Sanders, told CNN.
Mueller's indictment describes how a "high-ranking Trump campaign official" was in touch with Stone in October 2016 ahead of the release of additional damaging information about Clinton's campaign by WikiLeaks. That official was Stephen Bannon, who later served as Trump's top strategist, according to a person familiar with the matter. An associate of the official texted Stone after the release to say, "Well done." Bannon didn't respond to a request for comment.
The indictment also cites emails and texts exchanged among Stone, a campaign official and others during the 2016 campaign that show he had detailed knowledge of the WikiLeaks material damaging to Clinton and was communicating that to senior Trump campaign officials.
According to the indictment, by June or July 2016, Stone told "senior Trump campaign officials'' that he knew that WikiLeaks had damaging information about the Clinton campaign. He was contacted by senior Trump Campaign officials inquiring about future releases.
After the release by WikiLeaks on July 22, 2016, of emails stolen from the Democratic National Committee, a senior Trump campaign official "was directed" to contact Stone about other damaging material, and he later told the Trump campaign about potential future releases, according to the indictment.
At the time of his false testimony to Congress, Stone was still in possession of many of the emails and text messages, including some from the October exchange, according to Friday's filing. Stone and a high-ranking member of the Trump campaign traded communications, and Stone said the group that had access to the stolen emails would release "a load every week going forward."
He was also urging other witnesses to falsely testify, or to avoid it altogether, the indictment says. He told a person who was requested to voluntarily testify before a congressional committee to pretend that he doesn't know critical information that he in fact did know.
"If you testify, you're a fool," Stone texted the potential witness on Dec. 1, 2017, according to the filing. "Because of tromp [sic] I could never get away with a certain [sic] my Fifth Amendment rights but you can. I guarantee you you are the one who gets indicted for perjury if you're stupid enough to testify."
The indictment refers to that individual as Person 2, a radio host who has known Stone for more than a decade. The description matches that of Randy Credico, a progressive New York political activist and radio host. Prosecutors charged that Stone had repeatedly urged Person 2 to not testify to the House Intelligence Committee.
In November 2017, Stone urged Person 2 to invoke his Fifth Amendment right against self-incrimination rather than testify to the House Intelligence Committee. When Person 2 told Stone that his lawyer wanted to talk to him, Stone responded: "'Stonewall it. Plead the fifth. Anything to save the plan' . . . Richard Nixon."
After Person 2 was subpoenaed to the House committee, Stone invoked the name of Frank Pantangeli, a fictional mobster in the movie "Godfather Part II'' who developed memory problems as he testified before Congress.
A self-described political showman and dirty trickster whose career dates to the Nixon administration and who famously has a Richard Nixon tattoo on his back, Stone was a Trump campaign aide until his abrupt departure in August 2015, but he remained an informal adviser.
Stone has given varying accounts about whether he had advance knowledge that WikiLeaks would post a cache of private emails stolen from the Democratic National Committee, some of which embarrassed Democratic leaders and led to the resignation of the party chairwoman in the final weeks of the 2016 presidential campaign.
Even so, he has acknowledged exchanging private Twitter messages with an account claiming to be Guccifer 2.0, a hacker persona linked to the Russian government. A U.S. indictment of 12 Russian hackers thought to be responsible for the DNC email theft referred to an unnamed American close to senior members of the Trump campaign who was in contact with the hackers. Stone told CNN just after the July indictment that he was "probably" that person.
Before the emails were made public in October of 2016, Stone gave a speech and posted a series of tweets that seemed to foreshadow their disclosure and acknowledge that he served as a "backchannel to Assange," referring to WikiLeaks founder Julian Assange, who has been in the Ecuadorian Embassy in London since 2012 because of his concerns that he would be arrested if he left the building.
Since then, Stone has denied any prior knowledge of the stolen emails. U.S. prosecutors and intelligence agencies say that hackers commissioned by the Russian government were responsible for the theft.
CNBC, citing unnamed people familiar with the matter, reported on May 3 that Mueller was focusing on interactions between Stone and Gates, the Trump deputy campaign chairman who pleaded guilty in February to two counts stemming from the Russia probe and is cooperating with Mueller.
Gates had a longtime business relationship with Manafort, the campaign's chairman, who once ran a Washington lobbying firm with Stone. Manafort agreed to cooperate with Mueller after pleading guilty in September to conspiring against the U.S. The special counsel said he wasn't always truthful with them in their conversations after the plea deal was reached, and there's a hearing today in Washington to determine whether that's the case.
In the indictment, Stone is alleged to have had advance notice that WikiLeaks would release personal email stolen from the account of Clinton campaign chairman John Podesta.
On Aug. 21, 2016 -- two months before the mass release by WikiLeaks of the Democratic Party emails -- Stone tweeted that "it will soon (be) Podesta's time in the barrel." Still, in his testimony before a House Intelligence Committee in Sept. 2017, he testified falsely that he had no advance notice, according to the indictment.
(A previous version was corrected to say that an associate of Steve Bannon sent the "Well done" message)