Roberts Will Have Hand on Throttle as Supreme Court Veers Right
(Bloomberg) -- A shift to to the right is a near certainty for the U.S. Supreme Court. How quickly it will happen is up to Chief Justice John Roberts. 
With Justice Brett Kavanaugh's confirmation, Roberts is now in firm control of the court's throttle, positioned to decide whether and when to overturn liberal precedents.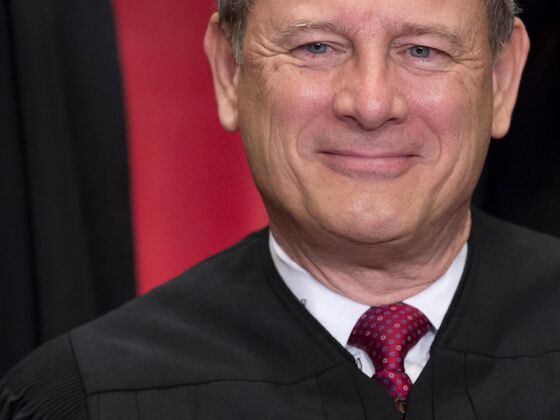 The stakes could hardly be higher. The court is being called on -- or will be soon -- to rule on abortion, guns, gay rights, religious freedom, campaign finance, voting rights, government regulation and presidential power.
In each area, conservative legal advocates have blazed a clear path they want the court to take. And in each, Roberts seems at least pointed in that direction.
But Roberts, 63, has also made himself the chief guardian of the court's institutional standing, one who worries about any perception of it as a partisan body. That's an image that would be hard to dispel if the court started issuing sweeping decisions with the five Republican appointees in the majority and the four Democratic appointees in dissent.
"His record shows a consistently conservative view of the law," said Allison Orr Larsen, a constitutional law professor teaching at Harvard Law School this semester. At the same time, he "seems to care very much about the court as an institution, and he is particularly aware of the fragility of the court when all eyes are watching and people view the justices as just politicians in robes."
Roberts and the court return to the bench Monday when they hear arguments in a pair of cases involving the enforcement of arbitration agreements.
Roberts, a 2005 appointee of President George W. Bush, joined the court with an impeccably conservative resume. He worked as a law clerk to then-Justice William Rehnquist, in President Ronald Reagan's Justice Department and White House, and as deputy to Solicitor General Ken Starr in President George H.W. Bush's administration.
Roberts has been on the conservative side of almost every 5-4 ideological divide since he became chief justice in 2005, the most glaring exception being his 2012 decision to join the liberal wing in upholding President Barack Obama's Affordable Care Act.
He has also helped ensure the court's rightward shift occurs incrementally. When the court considered throwing out a core part of the Voting Rights Act in 2009 as unconstitutional, Roberts instead wrote a narrow opinion that first gave Congress a chance to fix the law. After Congress didn't act, he wrote a landmark 2013 decision that tossed out the disputed provision.
Similarly, Roberts wrote a 2007 opinion that gave companies, labor unions and interest groups more power to run political ads but didn't go as far as three conservative colleagues wanted. Three years later, Roberts went the next step, joining that group and a fifth justice in the sweeping Citizens United decision.
Moving gradually is "in the chief justice's DNA," Washington appellate lawyer Kannon Shanmugam of Williams & Connolly said last month. Roberts has "demonstrated in his time on the court a real reluctance both to overrule the court's prior precedents and to move quickly."
But in some areas, Roberts doesn't seem interested in waiting. He made his opposition to affirmation action clear when he wrote in a 2007 school integration case that "the way to stop discrimination on the basis of race is to stop discriminating on the basis of race."
And in others, his more conservative colleagues could try to push him. Although it takes five justices to issue a majority decision, only four are needed to agree to hear an appeal. For example, four other justices could vote to hear an appeal that challenges the Roe v. Wade abortion-rights ruling, hoping that Roberts will join them after the case is argued.
In his only public appearance since the rancorous fight that preceded Kavanaugh's Oct. 6 confirmation, Roberts touted the importance of a nonpartisan judiciary. Speaking at the University of Minnesota Law School, Roberts made his point by paraphrasing comments from Kavanaugh at his confirmation hearing.
"As our newest colleague put it, we do not sit on opposite sides of an aisle," Roberts said. "We do not caucus in separate rooms. We do not serve one party or one interest. We serve one nation."
The remarks glossed over the deeply partisan battle over the nomination, including Kavanaugh's angry insistence that sexual assault allegations against him stemmed from a "calculated and orchestrated political hit."
So far Roberts and his colleagues have managed to muffle any partisan divisions. The court averted a sharp split this week when it shielded Commerce Secretary Wilbur Ross from being questioned under oath about his plan to add a citizenship question to the 2020 census. None the liberal justices publicly dissented, perhaps because the court let other aspects of the lawsuits challenging the plan go forward.
The harmony won't last forever. By next June, the court could be ruling on brewing fights over partisan gerrymandering, the workplace rights of gay and transgender people and Trump's effort to rescind deportation protections for young undocumented immigrants.
Kavanaugh's confirmation means conservatives will probably have the upper hand in each of those cases. And in all likelihood it will be Roberts who decides how far the court goes.