Rittenhouse Jury Ends Day of Deliberations Without a Verdict
(Bloomberg) -- The jury in the trial of Kyle Rittenhouse, the teenager who killed two men during a chaotic Black Lives Matter rally last year, ended its first day of deliberations without reaching a verdict.
The jury of seven women and five men, 11 of whom are White and one is a man of color, deliberated for more than 8 1/2 hours Tuesday, following the two-week trial. During the day they only asked for written copies of the judge's instructions on the law. Deliberations are set to resume Wednesday.
Rittenhouse, 18, is charged with counts ranging from reckless endangerment to intentional homicide and could face life in prison without parole if convicted of the most serious charge. The August 2020 shootings in Kenosha, Wisconsin, came amid the nationwide social upheaval after the murder of George Floyd and have become a talking point for some conservatives, who claim Rittenhouse is a hero, and some liberals, who hold him up as a reckless vigilante.
The press was thick outside the courthouse on Tuesday, as protesters gathered. Someone had used chalk to write "Kyle is guilty" and "White supremacy is for cowards" on the base of a flagpole. One woman held a sign saying self-defense is not a crime. As a man called out "Black Lives Matter" through a bullhorn, a counterprotester added: "Is a terrorist organization."
Justin Blake, whose nephew Jacob Blake's shooting by a Kenosha police officer sparked the protests Rittenhouse attended, waved a BLM flag and raised his fists on the steps of the courthouse.
Four sheriff's vehicles were parked near the courthouse, as several officers patrolled. No guns were visible except among law enforcement. Wisconsin Governor Tony Evers last week authorized 500 National Guard troops for Kenosha as the town prepared for the verdict.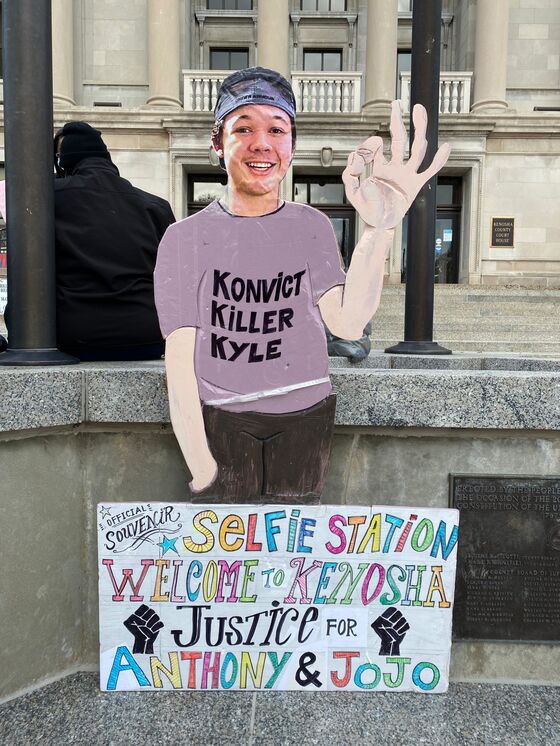 Emily Cahill, 33, from Illinois, said she traveled to Kenosha "to show support for Kyle Rittenhouse." She said that if "I was in that situation, where a gun was pointed at me and I defended myself, I would want somebody to be out here showing support for me."
Kenosha resident Francis Ellingsworth, 55, had come to the courthouse Monday, during closing arguments, with his 16-year-old daughter.
"The whole city's been on edge," he said. "I mean, you can still see businesses boarded up. People are still kind of nervous and scared. It's not been normal at all."
Ellingsworth said he thinks "people are preparing."
"I don't think it is going to be as bad as it was before," he said of possible protests after the verdict comes in. "It's scary, and the whole thing has been scary."
The mood was much lighter inside the courtroom, as the jury deliberated.
Judge Bruce Schroeder came into the courtroom Tuesday evening not wearing his robe and began to read Jeopardy questions to the media sitting in the room. Schroeder wouldn't move on to the next question until someone responded with the answer. He would then ask who answered the question and congratulated the person for having the right answer.