Risk of Repeat Shutdown Renews D.C. Blame Game
Washington is careening toward another government shutdown after border security negotiations between Republicans and Democrats broke down over the weekend.
A dispute has arisen over Democrats' demand for a cap on the number of unauthorized immigrants detained in the U.S. The clash has raised the chances that a funding lapse will recur Friday, just three weeks after the conclusion of a record-breaking shutdown that left hundreds of thousands of federal workers without paychecks, closed national parks and disrupted some of the nation's busiest airports.
Democrats also are demanding language blocking President Donald Trump from shifting funds to pay for his Mexico border wall, which was at the center of the impasse that prompted the most recent shutdown.
While negotiations could still get back on track in the next 24 hours, Trump – who heads to El Paso, Texas today to press the case for a wall – suggested on Twitter that Democrats are instigating a second shutdown to distract from positive economic news and a racially charged controversy surrounding party officials in Virginia.
"I'll say 50/50 we'll get a deal," Senate Appropriations Chairman Richard Shelby, a Republican, told Fox News yesterday. "I hope and pray we do."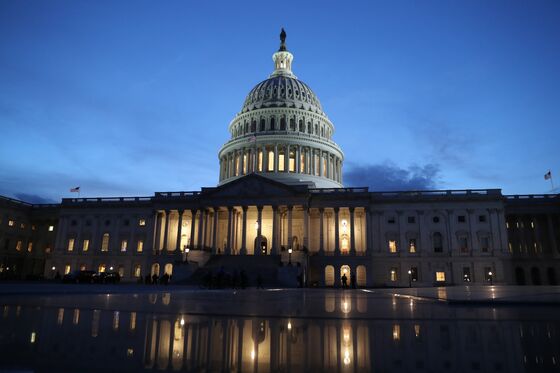 Emergency exit | As international and domestic pressure bears down on Venezuelan President Nicolas Maduro, with the U.S. encouraging him to leave the country for "a nice beach," Esteban Duarte, Eric Martin and Ilya Arkhipov examine where he could go. While Maduro has insisted he's not fleeing, contingency plans are being drawn up in case he needs to at short notice. Possible havens include Cuba, Mexico, Russia and Turkey.
Playing for time | Prime Minister Theresa May has taken the sting out of what was meant to be this week's crunch debate in Parliament on Brexit by offering more votes at the end of the month. Her conciliatory letter to opposition leader Jeremy Corbyn shows all the signs of another stalling tactic given they're still far apart on the key issue of the U.K.'s future trading relationship with the European Union. But the brinkmanship is terrifying business: A key lobby group described it as an "unfolding nightmare."
Cycle of unrest | With just over a month before the first general election since a coup almost five years ago, Thailand's political divisions are as deep as ever. There are now calls for a party linked to exiled former leader Thaksin Shinawatra to be dissolved after its surprise plan to make Princess Ubolratana Rajakanya its prime ministerial candidate unraveled when her brother, King Maha Vajiralongkorn, opposed the bid.
When the cat's away | Once Brazil's President Jair Bolsonaro is back at work following surgery, he'll have to deal with cabinet-level infighting that risks slipping into a full-blown power struggle, Simone Iglesias and Raymond Colitt report. Interviews with a dozen top officials and their aides reveal islands of power in a government that at best lacks coordination and at worst could begin unraveling at the seams.
Shadow rebels | They examine patients or teach children by day, but in their free time some professionals in Sudan are organizing the biggest protests in decades against President Omar al-Bashir. The authorities are trying to hunt them down as demonstrations over an economic crisis have morphed into calls for the end to al-Bashir's 30-year rule.
Iran plans to end 10 days of celebrations for the 1979 revolution today, holding public rallies across the country. Yet the organized fist-pumping will only mask the sanctions, cronyism, inequality and creaking banking system that burden the Islamic Republic.
U.S. officials head for Beijing as the world's two largest economies race to resolve their trade dispute before a cease-fire expires in less than three weeks.
And finally ... The Grammy Awards is the biggest event on the U.S. music industry's calendar, but last night it wasn't a singer who got much of the attention. Michelle Obama joined Alicia Keys on stage during her opening monologue along with Lady Gaga, Jada Pinkett Smith, and Jennifer Lopez, to rapturous applause. "Whether we like country, rap or rock, music helps us share ourselves," the former first lady said. Former President Jimmy Carter won his third best spoken word album honor for his work, "Faith — A Journey for All."