Risk of Fragile Government Hangs Over Thailand's Slowing Economy
(Bloomberg) -- Thailand appears set for an unwieldy pro-military governing coalition with only a slim majority to ward off fierce parliamentary opposition, raising the risk of political gridlock just as economic growth weakens.
The results of March's disputed election released this week boosted Palang Pracharath, a party carved out of the ruling junta. A local report Thursday said it has assembled an alliance with at least 256 seats in the 500-member lower house, and expects junta leader Prayuth Chan-Ocha to return as premier.
But an anti-junta coalition that says it was robbed of the chance to form an administration by unfair electoral rules is threatening legal action. It has almost as many seats as the mooted pro-military alliance, and could try to block Prayuth's efforts to pass key legislation such as the national budget.
"It'll be a weak government coalition," said Paul Chambers, a Thai politics expert at Naresuan University's College of ASEAN Community Studies. "We're going to see political pandemonium. It'll be difficult for them to get things passed, and it likely won't last longer than a year."
Foreign funds have pulled out a net $1.6 billion from Thai stocks and bonds this year, a sign that the drawn-out saga since the March 24 election has already unsettled some investors. The Bank of Thailand has warned the economy could be affected if a government isn't in place by August.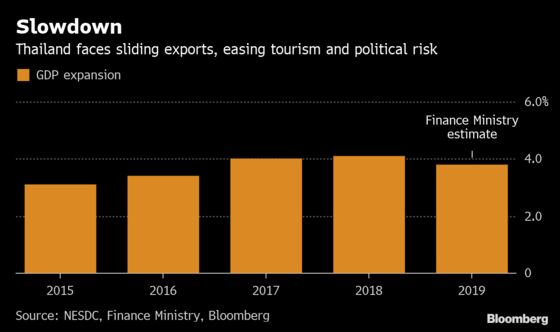 A Palang Pracharath-led administration under Prayuth should indicate continuity of some key policies, such as the rollout of major infrastructure and the $53 billion Eastern Economic Corridor development project, Kritapas Siripassorn, an analyst at Citigroup Inc., wrote in a note.
But a coalition made up of many parties and with just a few more seats than the opposition "would likely be extremely difficult to manage" and its "ability to push through a policy agenda could be limited as compromises will be needed for various" coalition factions, he said.
The central bank said on Wednesday that moderating exports and investment indicate Southeast Asia's second-largest economy will expand at a slower pace than expected earlier. Domestic political uncertainty is among the risks, according to the monetary authority.
The military government last month approved a package of spending and tax breaks designed to boost economic growth by 0.1 percentage point. The Finance Ministry expects expansion to slow to a three-year low of 3.8% in 2019.
The overall results of Thailand's first election since a coup in 2014 show the Pheu Thai party linked to exiled former premier Thaksin Shinawatra won the most seats -- 136 -- but fell short of a majority.
| | |
| --- | --- |
| Party | Lower House Seats |
| Pheu Thai | 136 |
| Palang Pracharath | 115 |
| Future Forward | 80 |
| Democrat Party | 52 |
| Bhum Jai Thai | 51 |
Palang Pracharath was second with 115, and the young Future Forward party third on 80. A total of 27 parties will have seats in the elected lower house.
Days after poll, Pheu Thai said it had formed a seven-member, anti-junta coalition that unofficially would have 255 seats in the 500-strong lower house. That number falls to below 250, based on the certified results.
Pheu Thai said in a statement Wednesday it still doubts the Election Commission's method for allocating party-list seats is constitutional.
Former army chief Prayuth unseated a Pheu Thai-led administration in 2014 and is seen as the favorite to return as premier because a junta-appointed 250-member Senate votes on who becomes prime minister, along with the lower chamber.
The Senate is due to be appointed by the weekend and the first sitting of parliament is expected by May 23, with the prime minister set to be elected soon after.
Thai politics has been dominated for more than a decade by a tussle for power pitting the royalist and military elite against Thaksin and his allies, who draw support from the rural poor and prevailed in every election since 2001, only to be unseated from government by the army or the courts.