Here's Where the Far Right Learned to Turn Down the Bluster
(Bloomberg) -- On a cold winter's afternoon in southern Slovakia, about 30 people gathered at a village restaurant to hear the People's Party put forward its plans ahead of an election next month.
For a party whose members have lauded the country's fascist state during World War II, there were the usual motifs of the far right familiar across former communist Europe. The speakers referred to a "population explosion" in areas inhabited by the Roma minority and gave away books on how to solve the "problem." Two burly men in military-style garb stood guard. 
Conspicuous by its absence, though, was the kind of extreme rhetoric that led the authorities to attempt to ban the party. Instead, there was a glimpse of why it's become the biggest challenger to the incumbent leadership as senior officials calmly promised to crack down on corruption and reverse the neglect that's led to potholed roads and decaying houses.
"I believe that on Feb. 29 we will be able to turn things around," said Martin Belusky, one of the two politicians who had come to address villagers in Lesenice near the border with Hungary.
That's the day Slovaks vote in the most unpredictable election in their post-communist history. The People's Party has emerged as a genuine contender for power by toning down its message and tapping into the disenchantment that's given succor to so many nationalists in Europe of late. While the country's president says she would try to prevent the party from forming a government, it still may end up holding the balance of power.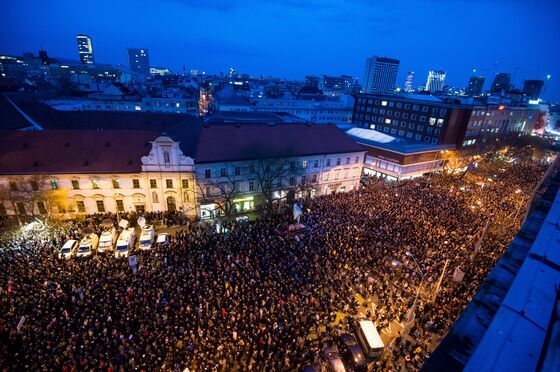 Any sort of success for the People's Party would send shock waves from Berlin to Brussels. With a population of less than 6 million, Slovakia is a member of the euro. It's also been a staunch ally of the European mainstream while being sandwiched between Hungary and Poland, member states that have both clashed with Brussels over everything from the independence of judges to taking in refugees.
Slovaks vote two years after the murder of a journalist and his fiancée rocked the nation and sparked the biggest street demonstrations in decades against corruption and cronyism. Protesters forced the resignation of Prime Minister Robert Fico, though he and his Smer party are still front runners.
The question is the make up of the next coalition government. While the People's Party has been critical of Fico, it has helped him at times to pass laws in parliament. It's now second in all opinion polls.
"The People's Party is benefiting from the mood that all established politicians are equally corrupt and ignorant," said Jakub Drabik, a scholar at the Slovak Academy of Sciences and a history professor. "With Smer sinking in the polls, I am seriously worried that they will win the election. Nobody else goes to these villages to talk to voters."
A decade ago, the People's Party was on the political fringe. Members would march through towns, wearing black and brown uniforms that brought back memories of the nation's troubled World War II past. Since then, it's sought to burnish its image as a respectable defender of ordinary Slovaks.
Last year, the party abandoned its priority to take Slovakia out of the European Union while members have been careful to repeat revering statements about the Nazi-era puppet government. Its first four-year-long stint in parliament and a failed attempt by the prosecutor general to ban the party won it support among a wider group of Slovaks who feel neglected by the elites.
"We can't let mafiosi and foreign agents capture our state," Vice Chairman Milan Uhrik, a member of the European Parliament, said in an address on the party's website. "The year of 2020 may make history—also thanks to us—as the year when the Slovaks finally woke up and became masters of their lives."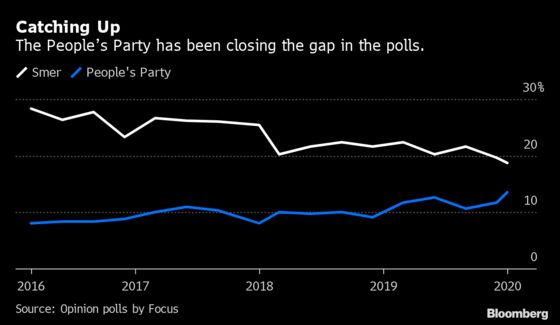 Old habits, though, die hard. There are the offensive statements about Jews and Roma, the impoverished minority ethnic group across eastern Europe that's traditionally been a lightning rod for prejudice. Party members still conduct "patrols" on some train rides vowing to protect citizens from what they call Roma criminals. 
One of its lawmakers, Milan Mazurek was forced to pay a fine for making racist remarks against Roma people. They ended up costing him his seat in parliament. Just last month, hundreds of People's Party supporters came to the village of Vazec near the Polish border after a local firefighter was beaten by residents of a local Roma settlement.
The growing popularity stirred a handful of smaller parties into action. Activists outnumbered People Party supporters campaigning in Sabinov, a small town in eastern Slovakia, and a rally in the town of Levoca was canceled after the main square filled with protesters chanting "fascists go home."
Despite the backlash, there's concern among the nation's more liberal voters. They include Lydia Pivovarcsyova, who was nine when she went into hiding under a false identity during World War II after her parents were sent to Auschwitz. She said she's once again getting goose bumps from fear.
"They no longer march with torches," said Pivovarcsyova, 87, whose family ran a vintage book store in downtown Bratislava. "But a fascist will always be just a fascist. He can behave differently, but he has it somewhere inside."
For sure, the prospect of the People's Party doing well in the election harks back to Slovakia's troubled history, and not just during the war and then communist rule.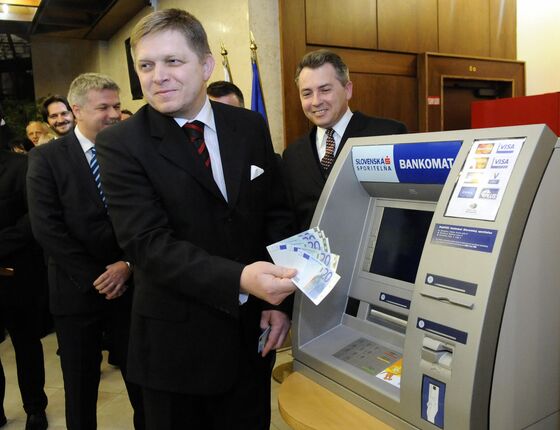 In the 1990s, Slovakia struggled to keep up with its regional peers and caught up only after the ouster of its authoritarian leadership finally put the smaller half of what had been Czechoslovakia on the path toward EU membership. In 2009, under Fico, it adopted the euro.
A skilled yet inexpensive labor pool helped turn it into Europe's biggest per-capita producer of cars, with Porsche Cayennes and Volkswagen Touaregs rolling off the line at a vast plant in Bratislava.
Peter Pellegrini, Slovakia's current premier and the face of the Smer party's election campaign, has promised to shun the far-right group should he need to form a coalition. But in reality it's Fico who calls the shots.
"At some point, the People's Party wants to be in the government," said Drabik, the academic, whose research has focused particularly on Czechoslovak and British fascism. "Hitler and Mussolini started in government as coalition partners and the other parties thought they could keep them under control. We know how it all ended."