Riot Highlights a D.C. Statehood Quest Likely to Be Dashed Again
(Bloomberg) -- For District of Columbia residents, new Democratic majorities in the U.S. Congress renewed long-standing hopes of gaining statehood rights for the nation's capital.
Yet instead of a push to create the 51st state, D.C. began the year with a deadly riot by Donald Trump's loyalists at the U.S. Capitol and an empty Inauguration celebration for President Joe Biden. Now, a tight security cordon encircles the Capitol building, patrolled by National Guard troops -- making it harder for D.C. officials to deliver the documents Congress requires for approval of local laws.
That's not the direction city residents had hoped to go this year in the fight for self-determination, according to D.C. Council Chairman Phil Mendelson.
"They won't let us on Capitol Hill," Mendelson said in an interview, describing how his staff members now have to meet congressional aides off campus to exchange documents. "It's ridiculous that Congress has built this fence around itself so that the ordinary necessary business that it requires is rendered almost impossible."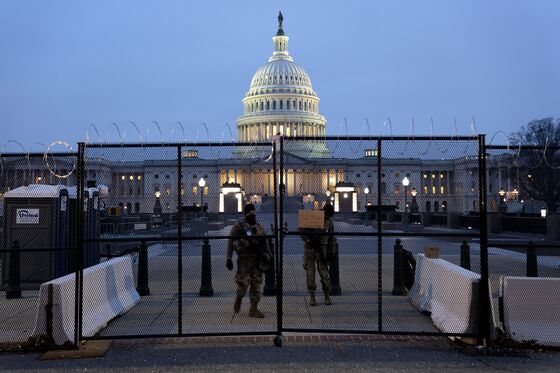 The fence symbolizes the hurdles facing a decades-long push to grant the city complete autonomy over its own affairs and its nearly 700,000 residents full representation in Congress. Even though Democrats including Biden support D.C. statehood, the effort stands little chance of getting to his desk with a narrow Senate majority and the new administration squarely focused on addressing the coronavirus pandemic.
Even so, statehood supporters remain undeterred, seeing their goal as a question of equality, another priority of the Biden administration. Forty-five percent of the District's residents are Black, according to the U.S. Census Bureau, and as recently as 1970, 71% of the city's population was Black.
"The president made it his agenda to tackle racial equity," Jamal Holtz, an advocate with 51 for 51, a D.C. statehood campaign, said in an interview. "If D.C. statehood isn't a part of that conversation then we're missing the problem here."
It was only in 1973 that District residents won the right to elect a mayor and 13-member Council. But that same law gave the U.S. Congress 30 legislative days to review D.C. laws, forcing the Council to pass temporary emergency bills, sometimes several times, for urgent issues.
The District currently has just one non-voting member representing its interests in Congress -- Delegate Eleanor Holmes Norton -- even though its population is more than either Wyoming or Vermont. Holmes Norton has introduced a D.C. statehood bill in every Congress since 1991, and it passed the House last year for the first time, only to be ignored by a Senate then controlled by Republicans.
"For most of my service in the Congress, I have been in the minority," Norton said in an interview. "Now we have a Democratic House, Senate and a president, of course. That is why we're making such progress now for D.C. statehood."
Holmes Norton re-introduced the bill again this year, and Delaware Senator Tom Carper introduced a companion bill in the Senate now led by Democrats. But Majority Leader Chuck Schumer hasn't committed to a vote.
The Senate this week is moving on from Trump's impeachment trial, which thrust into stark relief the District's lack of control over its own affairs, including security. House Speaker Nancy Pelosi connected the violence to residents' long-running fight for statehood rights.
"One important thing -- it would be really good if Washington, D.C., if the District of Columbia could operate as a state, as any governor can do -- is to call out the National Guard without getting the permission of the federal government," Pelosi said. "It shouldn't have to happen that way."
As rioters overran the Capitol, D.C. Mayor Muriel Bowser lacked the authority to quickly summon additional National Guard troops to help, unlike state governors responding to natural disasters or other emergencies. District leaders have to seek permission from the Defense Department to deploy their own National Guard, a process that local officials say delayed reinforcements reaching Congress on Jan. 6.
Unequal representation for U.S. citizens who don't live in one of the 50 states was also highlighted by U.S. Virgin Islands Delegate Stacey Plaskett's participation on the House impeachment team. She won praise for her arguments in the case against Trump, yet couldn't vote for his impeachment because delegates from territories can't vote in the House of Representatives.
Residents of Puerto Rico, another U.S. territory, are also seeking statehood, and have voted six times on its status. A majority of voters voted "yes" to statehood in 2012, 2017 and again in November.
For D.C., a shift to statehood would change how the District's bond ratings are calculated, but the impact would be hard to evaluate until that happens, according to S&P Global analysts Timothy Barrett and Nora Wittstruck.
The District holds an AA+ credit rating and a good management score from S&P Global, which means it is viewed as having a "very strong capacity to meet its financial commitments."
The ratings firm currently evaluates the District under U.S. local government criteria, and if it gained statehood it would be reviewed under the U.S. state criteria. Both frameworks consider budget autonomy, which would be the main change, as D.C. would no longer have to submit its budget to Congress for approval.
Generally, budget autonomy would be viewed favorably. Wittstruck said D.C. currently has "very strong policies and practices and any concerns regarding congressional oversight of the budget is largely mitigated by the sophisticated management team as reflected in the AA+ rating."
Adding a 51st state that trends heavily toward Democrats would shift the balance of power in Congress, especially in the 100-member Senate currently split 50-50. Statehood advocates say that's part of the point, since they say the chamber gives out-sized power to sparsely populated states.
Yet even though Pelosi has promised to bring the bill up for a vote again this year, and Biden says he supports D.C. statehood, it won't be easy to get Democrats to spend precious political capital and Senate floor time on the issue.
It takes support from 60 senators to hold a vote on most legislation, which means at least 10 Republicans would have to join Democrats on the bill. That's why D.C. statehood advocates are also pushing to get rid of the filibuster rule that allows the minority to block legislation.
"We know that the only way that D.C. statehood becomes a reality is by bypassing the filibuster," Stasha Rhodes, director of 51 for 51, said in an interview.
Representative Dusty Johnson, a Republican from South Dakota, reintroduced a bill on Jan. 27 that would instead return parts of D.C. to Maryland.
"It removes the need for D.C. statehood, while also providing representation to individuals living in the district by merging the suburbs with Maryland," Johnson said in a statement. In 1846, the U.S. gave back the land that Virginia ceded for the district.
Holmes Norton has rejected the idea of retrocession, as did Mendelson, who leads the council on all legislative matters.
"Residents of Maryland don't want it, and the residents of the District don't want it," Mendelson said. "The only folks who want it are those who are opposing the statehood."