Response to Russian Naval Spat Does Ukraine's Leader No Favors
(Bloomberg) -- The push by Ukraine's leader to impose martial law after a naval standoff with Russia struck many as odd. Why take this step now, they asked, when it wasn't implemented during the darkest days of a conflict that's killed more than 10,000 people and cost a sizable chunk of territory?
President Petro Poroshenko's rivals were quick to attribute the decision -- at least in part -- to next year's elections, where polls have the incumbent languishing in third place with single-digit support. Martial law could have delayed the vote, went the theory, while assured leadership in the face of aggression from Ukraine's old Soviet ally could rebuild popularity.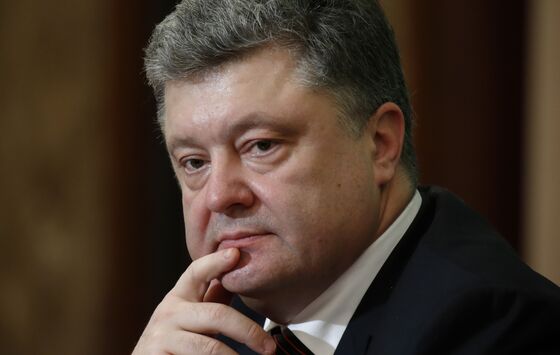 If that was the plan, it hasn't helped.
From the get-go, skepticism was rife on the motivations, and the need for it to cover the whole country when the latest flare-up occurred at sea, near the Crimean peninsula President Vladimir Putin swiped almost five years ago.
"The introduction of martial law across Ukraine would be an excellent opportunity to manipulate presidential elections and, if necessary, apply some elements of dictatorship," said Oksana Syroyid, a lawmaker from the Samopomich party.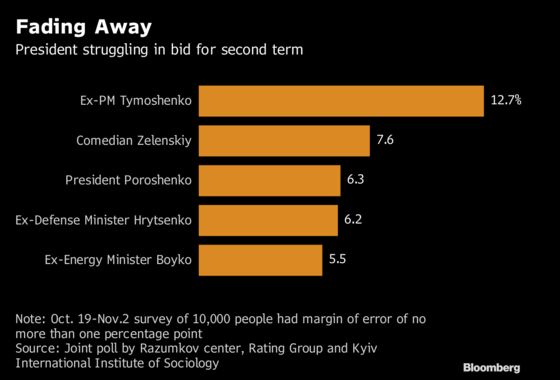 By Monday afternoon, less than a day since Russia fired on Ukrainian naval ships, seizing three of them and detaining 23 sailors, Poroshenko's plan had reached parliament. Surely, as the president warned of a possible invasion, legislators would rally around the cause?
The boss of the populist Radical Party, Oleh Lyashko, wasted no time in demanding Poroshenko, a billionaire most famous for his confectionery business, slash the period martial law would stay in force in half to 30 days. And he wasn't shy about voicing his suspicions.
"Poroshenko looked so happy when he was speaking about martial law," Lyashko told a rowdy and unexpectedly lengthy parliament session. "Like he'd just sold a wagon of chocolates."
Worse was to come for the president.
He was temporarily blocked from even addressing lawmakers. They eventually permitted him to speak, but would only agree to a severely watered-down version of his plan, covering regions bordering Russia rather than the whole country. And they insisted a bill be passed cementing the planned presidential election date for March 31.
Poroshenko's claim that a Russian attack may be imminent was labeled by investment bank Dragon Capital as "anything but a credible scenario at the moment."
The president, who won a landslide election victory in 2014 after protesters booted out his Russian-backed predecessor, had already begun cranking up the nationalist rhetoric. Having campaigned back then on promises to quickly end the conflict in his country's east -- now into its fifth year -- his slogan this time round is "Army, Language, Faith." On Tuesday, he repeated a claim he's made multiple times, that Ukraine is at risk of full-scale war.
Voters are already disillusioned by a post-revolution legacy that's failed to make sufficient inroads into corruption. The incumbent leader's handling of the Russia tensions will make changing their minds even trickier.
"I don't think it will boost Poroshenko's ratings," Yuriy Yakymenko, an analyst at the Razumkov Center for Economic and Political Studies in Kiev, said by phone. "It may add some points in the eyes of patriotic voters, who are his main electorate, but some people think that he was trying to avoid elections and that's negative."