Rosenstein Defends Russia Probe as Graham Takes Up 'Obamagate'
(Bloomberg) -- Rod Rosenstein, the former deputy attorney general who oversaw the Russia investigation, went before senators Wednesday to defend the need for the probe while acknowledging early mistakes in its execution.
It was an assessment that clashed with allegations by Judiciary Committee Chairman Lindsey Graham and other Republicans that Donald Trump was a victim of anti-Trump forces in the FBI and Justice Department more than three years ago that fatally tainted the inquiry into Russian meddling in the 2016 election and whether anyone close to Trump colluded in it.
"Every application that I approved appeared to be justified based on the facts it alleged, and the FBI was supposed to be following protocols to ensure that every fact was verified," Rosenstein said of applications to a secret court in 2016 and 2017 to wiretap Carter Page, a former aide to Donald Trump.
Under questioning from Graham, Rosenstein acknowledged that he wouldn't have signed an application to renew the wiretap authorization for Page if he knew about FBI wrongdoing that has since been uncovered by Justice Department Inspector General Michael Horowitz.
Rosenstein also said he wasn't aware the FBI intended to close an investigation into Michael Flynn, Trump's first national security adviser, before deciding to keep it open so he could be interviewed.
But Rosenstein testified that he found no political bias in the investigation by Special Counsel Robert Mueller that followed. "Nothing came to my attention that I thought was illegitimate," Rosenstein said, adding later, "I do not consider the investigation to be corrupt."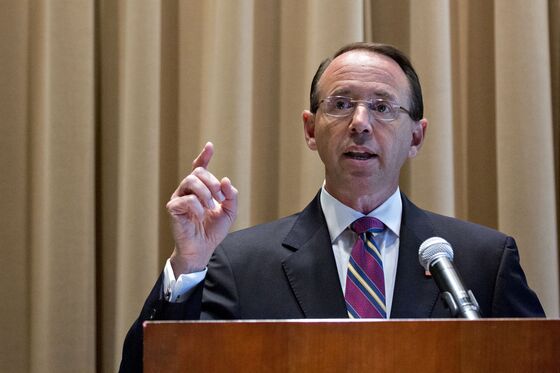 Amid dual national crises over policing in black communities and the coronavirus, President Trump reasserted in a tweet Wednesday that he was the victim of "Obamagate," a label reflecting the president's contention without evidence that his predecessor personally led a plot to undermine him.
Graham pressed ahead with the hearing despite criticism from Democrats that the issue shouldn't be top-of-mind for lawmakers at the moment.
"Americans are in the streets demanding racial justice, and a shop-worn discredited conspiracy is what the Republican majority is focused on," Senate Democratic Leader Chuck Schumer said Wednesday on the Senate floor. "What alternative universe do they live in?"
Senate Minority Whip Dick Durbin, a committee member, compared the hearing to the reruns of old baseball games being aired during the pandemic.
Graham promised Tuesday that the committee will take a "deep dive" into questions of policing and race relations, tentatively setting a hearing on the issue for June 16.
For now, though, Graham, a close Trump ally, is sticking to his plan for extensive hearings on evidence of wrongdoing by some FBI officials in the early stages of the Russia investigation.
After the testimony from Rosenstein, who appeared voluntarily, Graham has scheduled a committee vote for Thursday that would give him authority to subpoena a long list of Obama administration officials, from ex-FBI Director James Comey to former intelligence chief James Clapper.
Graham said during the hearing that the early-stage Russia investigation, labeled Crossfire Hurricane, "was one of the most corrupt, biased criminal investigations in the history of the FBI, and we'd like to see something done about it. Every American should be concerned by the fact that the inspector general found criminal wrongdoing, abuses of power in warrant applications against Carter Page."
Hours before the hearing, Trump tweeted that it's a scandal that "makes Watergate look like small potatoes!"
Senator Dianne Feinstein, the committee's top Democrat, said in her opening statement that "contrary to the president's claim that his campaign was unfairly targeted, Inspector General Horowitz found no evidence of political anti-Trump bias in the Crossfire Hurricane investigation."
Rosenstein is hardly a hero to many Republicans. Although he provided Trump with a letter that the president cited in firing Comey in 2017, Rosenstein may be pressed about reports that he became so upset afterward that he discussed whether to wear a wire to secretly record the president and how to remove Trump from office. On Wednesday, he denied suggesting either.
After then-Attorney General Jeff Sessions recused himself from the Russia investigation, Rosenstein named Mueller as special counsel to take over.
Democrats have their own complaints about Rosenstein, including that he joined William Barr, the current attorney general, in announcing there weren't grounds to charge Trump with obstructing justice after Mueller found evidence on both sides of the question.
"As we now know, the eventual conclusions were that Russians committed crimes seeking to influence the election and Americans did not conspire with them," Rosenstein said in his opening statement on Wednesday.
In fact, Mueller declined to make a determination on whether Trump should be charged and later said Barr gave a misleading account of his findings.
Barr has also moved to drop charges against Flynn for lying to the FBI about conversations with the Russian ambassador to the U.S. Barr has said the investigation into Flynn wasn't legitimate, and Republican lawmakers have said the FBI sought to entrap him.
The Justice Department opened a criminal investigation last year into whether Trump or his 2016 presidential campaign was illegally spied on.
The attorney general appointed a career prosecutor, John Durham, to conduct the investigation, which is examining actions by both law enforcement and intelligence officials. Trump and his allies expect more revelations from Durham's investigation heading into November's election.