Republicans Near Kavanaugh Vote as Holdouts Call Probe Thorough
(Bloomberg) -- Senate Republicans pushed toward a make-or-break test vote on Supreme Court nominee Brett Kavanaugh as key GOP holdouts Jeff Flake and Susan Collins said an FBI investigation prompted by sexual misconduct allegations against him appeared to be thorough.
Flake of Arizona, who last week forced fellow Republicans to allow the additional investigation, said it contained "no additional corroborating information" and agreed with the assessment by Collins of Maine that the report seemed "very thorough." The third GOP holdout, Lisa Murkowski of Alaska, said she hopes to have enough time to make a decision before a major procedural vote, scheduled for 10:30 a.m. Friday.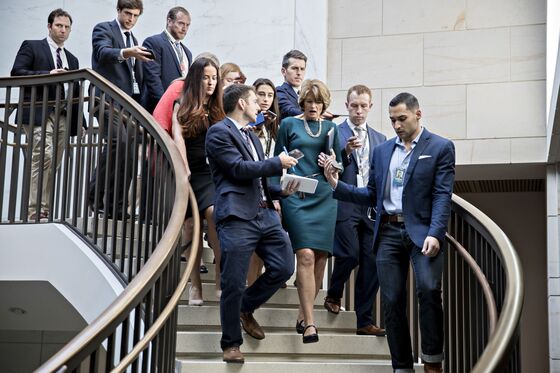 "Judge Kavanaugh should be confirmed on Saturday," Senate Judiciary Chairman Chuck Grassley of Iowa told reporters Thursday. Grassley's office said later the FBI had found "no corroboration of the allegations made" by two Kavanaugh accusers after interviewing 10 witnesses with potential first-hand knowledge of the accusations.
Democrats criticized the probe as a whitewash since the number of witnesses contacted fell far short of the dozens of potential witnesses offered to the FBI by two Kavanaugh accusers. Top Judiciary panel Democrat Dianne Feinstein of California said the probe seemed "incomplete" and that the White House appeared to have "blocked the FBI from doing its job."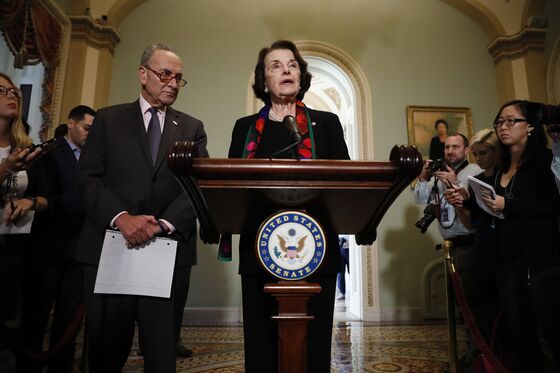 Kavanaugh needs support from two of the three Republican holdouts to ensure confirmation in the Senate, which the GOP controls 51-49. The FBI report is 46 pages, according to Republican Senator Bob Corker of Tennessee. Murkowski said the interviews were being read to senators in a secure room, and that she hasn't had a chance to hear them all.
Senate Majority Leader Mitch McConnell of Kentucky set the procedural vote for Friday that, if successful, could lead to full confirmation of Kavanaugh this weekend to the nation's highest court. The nomination has verged on collapse at times by the weight of mounting sexual misconduct allegations. Kavanaugh strongly and at times tearfully denied the allegations at a Senate Judiciary hearing last week.
In an op-ed published Thursday on the Wall Street Journal's website, Kavanaugh conceded that he "might have been too emotional" and "said a few things I should not have said" during his testimony.
The FBI didn't interview Kavanaugh or Christine Blasey Ford, one of his accusers, because it didn't have clear authority from the White House to do so, according to two people with knowledge of the matter. Collins declined to say whether she thought they should have been interviewed.
As Collins left the secure room early Thursday evening, she declined to say whether she was still undecided and said, "I'm not going to comment further other than to tell you I've read all of the interviews." She also said she had read many transcripts of information given to the FBI tip line.
The FBI has completed the limited background investigation as directed by the White House but stands ready to carry out further investigation if the White House asks it to do so, a person familiar with the matter said Thursday.
President Donald Trump, who was briefed on the findings of the report Thursday, signaled support for his nominee, decrying "harsh and unfair treatment" of Kavanaugh in an early morning tweet. After earlier calling Ford's claim "very credible," the president mocked her testimony at a rally Tuesday in Southaven, Mississippi.
Ford's attorneys criticized the FBI investigation as a "stain" on the bureau. The lawyers took issue with the bureau's failure to interview Ford or additional witnesses whom they said would have provided corroborating evidence. Ford accuses Kavanaugh of holding her down and trying to disrobe her at a house party when they were teenagers.
Accuser Deborah Ramirez's lawyer, William Pittard, said in a letter that investigators didn't interview more than 20 witnesses she offered to corroborate her allegation that Kavanaugh exposed himself to her at a drunken party when they were Yale University students.
"We can only conclude that the FBI -- or those controlling its investigation -- did not want to learn the truth behind Ms. Ramirez's allegation," Pittard said.
Senate Minority Leader Chuck Schumer of New York told reporters, "I disagree with Senator Grassley's statement that there appears to be no hint of misconduct." He called for the Trump administration to make public its directive to the FBI. "It greatly constrained the investigation from the get-go," Schumer said.
Democratic Senator Heidi Heitkamp -- who voted for Trump's first high court nominee, Neil Gorsuch -- said she would vote against Kavanaugh. Last week's hearing "called into question Judge Kavanaugh's current temperament, honesty and impartiality," said Heitkamp of North Dakota, who is in a difficult re-election battle.
White House spokesman Raj Shah defended the investigation to reporters Thursday, saying "of course we were and of course we have been" seeking the truth in the matter. He said Ford and Kavanaugh had an "opportunity to tell in a very detailed and comprehensive fashion the Senate their testimony" and that the administration was "fully confident after reviewing this information senators can be comfortable voting 'yes."'
Grassley's statement said the FBI reached out to 11 people with potential first-hand knowledge of the claims, with one -- a possible eyewitness identified by Ramirez -- refusing to be interviewed. Investigators spoke to three people whom Ford said attended the gathering where she was allegedly assaulted, including Mark Judge, Patrick "P.J." Smyth and Leland Keyser.
Shah said other witnesses -- like a former Kavanaugh classmate at Yale who told the New Yorker his outreach to the FBI had been ignored -- lacked "firsthand knowledge" and therefore wouldn't "be deemed as very credible in a process like this." The White House was in regular contact with senators on the fence about Kavanaugh's nomination, Shah said.
At the Mississippi rally Tuesday night, Trump ridiculed Ford's memory of the alleged assault to cheers from the audience.
"How did you get there? I don't remember. Where was the place? I don't remember," Trump said, mocking Ford's answers during last week's hearing.
Trump's remarks drew a rebuke Wednesday from Flake, who told NBC News, "There is no time and no place for remarks like that."
Murkowski was asked whether Trump's comments would affect her decision on whether to back Kavanaugh's confirmation.
"I am taking everything into account and I think the comments by the president yesterday mocking Dr. Ford were wholly inappropriate," Murkowski said.
Despite Trump's assertion on Monday that "the FBI should interview anybody that they want, within reason," confusion beset the investigation, fed by conflicting signals over what constraints had been placed on the bureau.
The White House indicated to the FBI that the testimony from Kavanaugh and Ford before the Judiciary Committee last week was sufficient, said the two people, who asked not to be identified discussing the sensitive matter.
A White House official, who spoke on condition of anonymity, said the White House viewed the inquiry as a supplemental background investigation, with its scope limited to the sex-assault allegations. On Monday, three days into the investigation, the White House gave the FBI approval to interview more people, but the bureau was still constrained by an initial directive to investigate only credible allegations of sexual misconduct, one of the people said.