Massachusetts Republican Governor Baker Won't Seek a Third Term
(Bloomberg) -- Massachusetts Governor Charlie Baker, among a disappearing breed of moderate Republicans elected as chief executives in New England, won't seek a third term in 2022.
His lieutenant governor, Karyn Polito, who had amassed more than $2 million in campaign funds, also bowed out. In a joint statement, the pair said running would have been "a distraction" from continuing to manage the Covid-19 pandemic. Their work, they said, "cannot and should not be about politics and the next election."
"We want to focus on recovery, not on the grudge matches political campaigns can devolve into," Baker, 65, and Polito, 55, said Wednesday in the letter to supporters.
Massachusetts Attorney General Maura Healey, until now seen as Baker's chief Democratic rival, said Wednesday that she would announce her decision on whether to run "soon."
"Really today is about acknowledging and appreciating the service of Governor Baker," Healey said in an interview on Bloomberg Television's "Balance of Power with David Westin."
"These jobs are not easy, particularly in these challenging times," Healey said. "As we see across the country some of the divisiveness, some of the rancor, it's so important we have people in office who understand how to get things done in common spirit and common effort on behalf of our states and our country."
The announcement by Baker came as a surprise to many political observers, as well as his only declared rival on the Republican side, former state Representative Geoff Diehl, who declined to immediately comment on the news.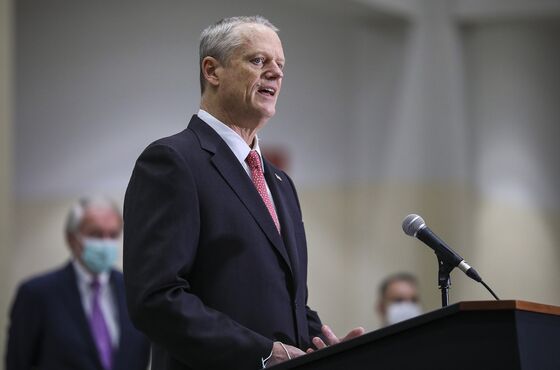 Diehl led a successful ballot-question campaign to repeal the Massachusetts gas-tax indexing law in 2014. He was also the state chairman of former President Donald Trump's election effort in 2016.
On the Democratic side are former state Senator Ben Downing, Harvard professor Danielle Allen and state Senator Sonia Chang-Diaz. 
Baker is among a group of popular Republican governors leading Democratic-leaning states. Maryland's Larry Hogan and Vermont's Phil Scott, also have high approval.
For most of Baker's two terms, his approval numbers remained high, often outdoing well-known Democrats in the state, including U.S. Senator Elizabeth Warren. He also appeared at several fundraisers in his name, fueling speculation that he would run again.
Though the Massachusetts Legislature is controlled by Democrats, moderate Republicans like Baker and former governors Bill Weld and Frank Sargent have been able to win over voters for the governor's office.
To a large degree, Baker's legacy will be ideological, Erin O'Brien, associate professor at the University of Massachusetts Boston, told Bloomberg Radio. 
"He stayed the New England moderate path while the country went down a different path," O'Brien said. "And it will be Covid, that he guided Massachusetts through the Covid pandemic -- we're probably not out of it -- but in ways that many of us view as much more positive than other parts of the country."