Republican Efforts to Restrict Voting Risk Backfiring on Party
(Bloomberg) -- Republican lawmakers in battleground states are rushing to enact stricter voting laws that Democrats worry could dampen Black and Hispanic turnout, but the moves could end up backfiring because of the changing face of the GOP coalition.
The flurry of legislation includes attempts to impose voter ID requirements and roll back pandemic-related expansion to mail-in access, steps that may inadvertently limit the participation of many of the older, rural and blue-collar voters that Republicans now depend on.
State legislatures across the country are considering more than a hundred bills that would increase voter ID requirements, tighten no-excuse vote-by-mail, and ban ballot drop boxes, among other changes.
This flood of legislation comes despite research showing that voter ID laws passed over the last decade not only don't hamper minority turnout, but may even boost it by motivating angry Democrats and spurring stronger get-out-the-vote efforts.
Nick Stephanopoulos, a Harvard professor who studies voting laws, said that the suburban, college-educated voters moving toward the Democratic Party are the least likely to be affected by new restrictions, since they have the resources to overcome them and tend to be regular voters already.
If Republicans don't match Democratic outreach to their less-engaged supporters, then it's GOP voters who could miss out, he argued.
"You could really easily imagine these efforts backfiring," he said.
Supporters of the proposed changes say they're necessary to strengthen public confidence in elections. Wisconsin state Representative David Steffen, a Republican sponsoring multiple bills, said polls showed that about 30% of Democrats lacked confidence in the 2016 election results and about 70% of Republicans lacked confidence in the 2020 election.
"Regardless of whether these improprieties are taking place, people are wondering if they are," he said. "Perception is incredibly important to the functioning of government."
Bills in Arizona would make it easier to remove voters from the permanent early-voting list or eliminate it entirely, and add voter ID and notarization requirements to mail ballots. Texas lawmakers have filed bills to tighten absentee ballot application rules and require that a state agency verify citizenship on voter registrations, among other things.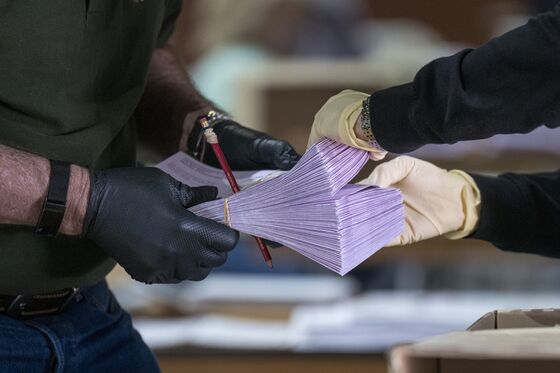 Republicans control state government -- and therefore have more power to push through changes -- in the key electoral battlegrounds of Arizona, Florida, Georgia and Texas.
A bill under discussion in Georgia would require voters to submit a photocopy of their ID with both an application to vote by mail and with the ballot itself.
Georgia Republican Governor Brian Kemp, who Democrats accused of limiting ballot access in 2018, is supporting tighter voter ID requirements for mail-in ballots, though he hasn't endorsed a specific bill.
"You have to present an ID to vote normally," said Kemp spokeswoman Mallory Blount. "Absentee ballots should be held to the same standard."
But Democratic-allied groups, such as one run by Kemp's former opponent, Stacey Abrams, argue that the bills are an attempt to suppress minority votes after Republicans lost the presidential race and two Senate runoffs in January.
"Republicans wrote Georgia's election laws, but they were humiliated on November 3 and January 5, so they are seeking to silence Georgians, particularly communities of color," said Seth Bringman, a spokesman for Abrams' Fair Fight group. "Their desperation to hold onto power at the expense of Georgians' constitutional right to access the ballot has never been clearer."
Voting laws in Georgia have long been a source of contention. A report from the ACLU of Georgia released last fall found that 198,000 voters removed from the voting rolls had not actually moved, with purges higher among younger people and minorities. The ACLU and other groups are suing the state.
But Kathleen Unger, president of the nonpartisan voter ID assistance group VoteRiders, said that the new proposals sweep up a different set of voters.
She said the photocopied ID requirement would be particularly onerous for people who don't have a valid photo ID or easy access to a copy machine or a printer. That would include many rural, lower-income and older voters -- three groups that are now a big part of the Republican base -- as well as those with disabilities and college students who lean Democratic.
According to exit polls from Edison Research, former President Donald Trump won rural voters by 15 percentage points in November but President Joe Biden essentially tied him with suburbanites, a previously Republican group that's trending toward Democrats. Exit polls also showed that 67% of White voters without a college degree backed Trump.
David Becker, director of the nonpartisan Center for Election Innovation and Research, said the number of proposed restrictions is a sign Republicans are worried about demographic trends in those states.
"When you see a party trying to change the rules with as much intensity as they are, that tells you they have lost confidence in the power of their ideas to persuade voters," he said.
And while Biden narrowed the gap among older voters -- which Democratic strategists credit to his campaign outreach and Trump's poor handling of the coronavirus pandemic -- surveys by the Pew Research Center show that Baby Boomers and members of the slightly older Silent Generation are the most Republican-leaning voters.
Meanwhile, there's little evidence that these kinds of laws boost Republican turnout.
Since 2000, states have regularly passed stricter voter ID laws, especially after a 2013 Supreme Court decision that threw out part of a federal law that required some counties and states with a history of discrimination -- including Arizona, Georgia and Texas -- to get preapproval from the Justice Department before making changes to voting laws.
But research on voter ID has found mixed results. Several studies have found no statistically significant effect on turnout, while others have found only small decreases. And there's some evidence that the laws may even spur greater turnout among Democrats.
A 2016 study published in Political Psychology found evidence that the debate over voter ID laws angers Democrats, making them more likely to vote, while a 2019 paper published by the National Bureau of Economic Research found that in states with strict voter ID laws, non-White voters were 5.4 percentage points more likely to be contacted by a campaign than in other states.
The recent Senate runoff elections in Georgia seem to bear that out. In a state long known for restrictive voting laws, Abrams and other activists led a decade-long effort to reach out to disengaged young and Black voters, helping them register and vote.
The end result was that Biden narrowly won the state in November, the first Democrat to win the state since 1992. And Raphael Warnock and Jon Ossoff won runoffs in January to flip control of the U.S. Senate to Democrats.
The strongest argument against the renewed restrictions may come from the very election that's inspiring them, however.
Strategists from both parties have long believed that high turnout boosts Democrats and hurts Republicans, but the 2020 election suggests otherwise.
While last year's election saw the highest turnout in modern elections, partly due to increased access through relaxed mail-in ballot requirements and early voting, Democrats didn't see a wave of success in races other than the presidential one.
Republicans picked up a net of 12 seats in the House of Representatives and held onto vulnerable Senate seats in Iowa, Maine and North Carolina.