Refugee Crisis Ignites European Showdown: Balance of Power
At the peak of Europe's refugee crisis, the influx of millions of migrants frayed the continent's social cohesion and threatened to topple governments.
Italy's populist government has lost no time in picking fights with its European peers. Interior Minister Matteo Salvini's denial of access to a humanitarian vessel prompted Spain to step in and grant safe harbor, while provoking a rebuke from French President Emmanuel Macron. A full-blown diplomatic incident followed as Paris and Rome traded insults.
In Berlin, Chancellor Angela Merkel is again under domestic pressure over her liberal stance on asylum. Hungary and Poland continue to refuse to accept any refugees at all.
While arrivals are way down from 2015-2016, Europe's inability to agree on how to respond to those making the dangerous journey is stoking EU infighting at the very time it needs to show unity in the face of President Donald Trump's challenges on trade, Iran and defense.
It's likely to get worse: Austria's anti-immigration government is making migration the centerpiece of its six-month presidency of the EU starting July 1.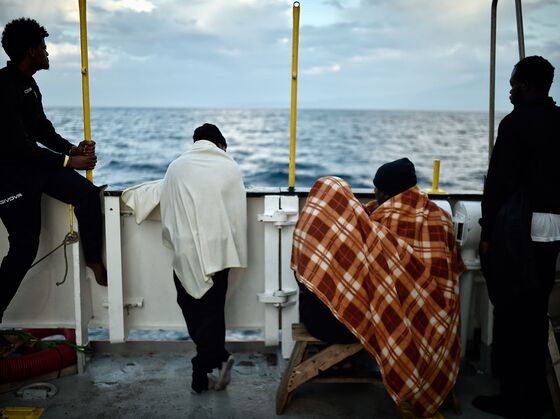 Trade crackdown | Trump has warned he'll confront China "very strongly" over trade in the coming weeks, as his administration prepares to announce a final list of tariff targets tomorrow. His comments heighten expectations that China will retaliate with penalties of its own if the U.S. goes ahead with its plans.
Legal woes | From Special Counsel Robert Mueller's investigation of campaign ties to Russia to a hush payment to a porn star and possible payoffs by foreign governments, Bloomberg's legal team breaks down the various troubles Trump faces. The analysis comes as the Justice Department Inspector General is set to release its review of allegations the DOJ and FBI acted improperly ahead of the 2016 presidential election.
Post-summit spat | Secretary of State Mike Pompeo emphasized that Kim Jong Un wouldn't receive sanctions relief until after his complete disarmament, pushing back against North Korean suggestions that penalties would soon be relaxed. The comments came after Trump said the regime no longer posed a nuclear threat. To read about Kim's propaganda machine going into hyperdrive after the June 12 summit, click here. 
A stark choice | Polls in Colombia predict a decisive victory in Sunday's presidential ballot for Ivan Duque, a U.S.-educated lawyer who wants to cut corporate taxes, over Gustavo Petro, a former leftist guerrilla who promises to redistribute land and cut oil dependency. "This is an election unlike any Colombia has seen for a long time," said one economics professor. Ezra Fieser reports from Bogota.
In the run-up to the Turkish national election next Sunday, Bloomberg correspondents are crisscrossing the country to talk to voters in the heartland. Stories include this one by Onur Ant who traveled to the eastern city of Kars and found President Recep Tayyip Erdogan's campaign fighting to overcome the hurdles that have turned his victory from a first-round lock into a nail-biter. Next week, we'll be publishing stories from cities including Izmir, the secularist capital on the Aegean coast.
And finally... All roads lead to Moscow for soccer fans today, where Russia and Saudi Arabia play the opening match of the 2018 World Cup. President Vladimir Putin lavished more than $11 billion on preparations for the tournament as he looks to present a friendlier face of Russia after years of international tensions. Hundreds of thousands of visiting fans will add color and humor, while Russians will hope home advantage lifts their team, which ranks lowest of all the competitors.