Rees-Mogg Won't Insist on Dropping Irish Backstop, Report Says
(Bloomberg) -- Pro-Brexit lawmaker Jacob Rees-Mogg is no longer insisting that the "Irish backstop" be dropped as a condition for supporting Prime Minister Theresa May's Brexit deal, he told the Financial Times in an interview.
In a sign that he's softening opposition to the plan, Rees-Mogg -- the leader of the pro-Brexit European Research Group of Conservative Party lawmakers -- said he would consider other legal fixes to ensure the so-called backstop didn't become permanent, the paper reported. That could be in the form of an appendix to the text, he said.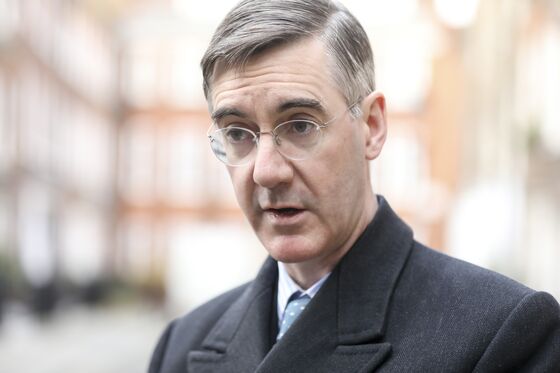 "I think you can add an appendix without reopening the text," Rees-Mogg said, according to the Financial Times. "You'd be adding something on at the end, but it's still part of the text."
The roughly 90-member ERG contributed to the historic defeat of May's deal in Parliament last month and will be key to the vote on a revised deal with the EU, expected early next month. The main objection cited by the lawmakers was the backstop aimed at avoiding a new physical border emerging between Northern Ireland, which is part of the U.K., and the Republic of Ireland, which will remain in the EU. 
May on Tuesday promised parliament a vote to rule out a no-deal Brexit and opened the door to a potential delay, in an attempt to mollify Remainer members of her cabinet. The move could also pressure pro-Brexit lawmakers to throw their support behind her.
Rees-Mogg told the paper that the threat of a delay to Brexit had not affected his thinking, and that a three-month extension could allow the U.K. to prepare for a no-deal exit from the EU.