Red-State Stop for Democrats Showcases Bitter Voter-Rights Feuds
(Bloomberg) -- Democrats hope to put the diverse state of Georgia in play for the first presidential election in decades, but it remains a long shot where the party will have to fight with Republicans over access to ballots and other voting rights issues.
Highlighting its new competitiveness, 10 candidates seeking the Democratic nomination will debate in Atlanta on Wednesday at Tyler Perry Studios. The selection of the site is a nod to both the state's civil rights history — the studios were built where a Confederate Army post once stood — and its growing stature as the "Hollywood of the South."
The 2018 election put Georgia and Stacey Abrams' near-miss in the governor's race under national scrutiny for election practices that Abrams and other critics say give Republicans an unfair advantage.
In an effort being copied in dozens of states across the country, Democrats and civil rights groups have filed five federal lawsuits over Georgia's election practices a year before the 2020 election, a sign of how hard-fought the presidential contest will be in a state President Donald Trump carried by five points in 2016.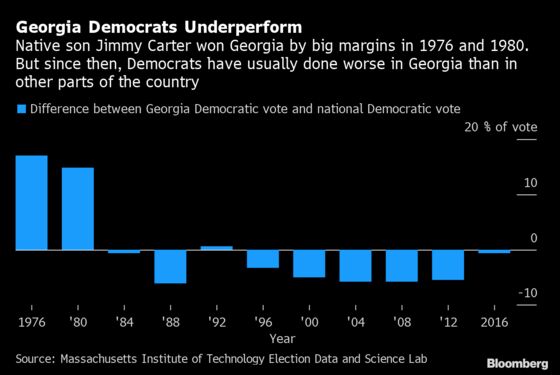 Angry over her loss to Republican Brian Kemp — who as Georgia's secretary of state was responsible for overseeing the election he ultimately won — Abrams now leads a national effort to fight for voting rights before the 2020 election. She still hasn't conceded the election to Kemp, losing by 1.4 percentage points amid widespread complaints of voter suppression.
"Voter suppression is going on today, but people don't think about it until the September before an election," Abrams, whose name has been bandied about as a possible Democratic running mate, recently told the National Press Club.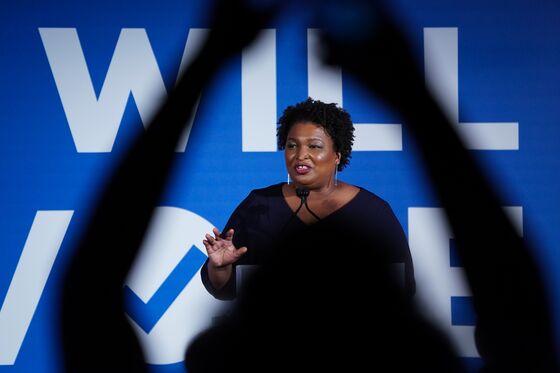 In the deep South, voting rules have changed more quickly than at any time in half a century. In 2013, the Supreme Court struck down a provision of the 1965 Voting Rights Act that allowed the Justice Department to block changes to voting rules in states with a history of discrimination, including Georgia.
At the same time, demographic changes across the Sun Belt are turning formerly Republican strongholds like Georgia, Texas and Arizona into potential battleground states — increasing the stakes in the fight over every vote.
Since then, Republican legislatures in those states have introduced new voter identification requirements, closed polling places, and purged inactive voters from the registration rolls.
"It's not that this is new. I grew up in the South. I know what it's like to have your right to vote under attack," Nikema Williams, a Georgia state senator and the first black woman to lead the Georgia Democratic Party. "But for too long the margins have not been close enough for anyone to pay attention."
Not any more. A poll last week by the Atlanta Journal-Constitution found that Joe Biden would beat President Donald Trump, 51% to 43% in Georgia. Other Democrats were also leading Trump, but not outside the poll's margin of error.
One reason: 54% of Georgia voters disapprove of Trump. Among African-Americans, that number is 88%, and among other ethnic groups, it's 56%, according to the newspaper's poll.
In Georgia, the business community has taken note. Synovus Financial Corp. Chairman and Chief Executive Officer Kessel D. Stelling said he believes Georgia is now a swing state.
"Just look at the last election with Governor Kemp and Stacey Abrams. It was as tight as it was. You have got to consider Georgia a swing state."
Since 1976, only Jimmy Carter and Bill Clinton — two Southerners — have won the state for Democrats. The last time a non-Southern Democratic presidential candidate won Georgia was Adlai Stevenson in 1956.
Both Democrats and a Trump-affiliated super-PAC have said they were pouring money into Georgia in 2020.
Andra Gillespie, who studies voter behavior at Atlanta's Emory University, said voter suppression can include subtle policies and practices: Consolidating or moving polling places, gerrymandering, cancellations of voter registrations, crackdowns on third-party voter registration drives and limits on staff or equipment that lead to long lines at some polling places. Those policies can disproportionately block minority voting, she said.
Voter suppression "will be part of the narrative in 2020, and it will especially be part of the narrative in Georgia because of the allegations from 2018," Gillespie said.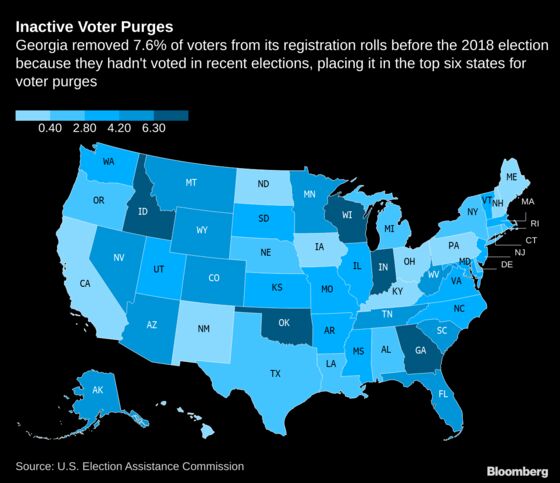 Almost 800,000 voters were purged from Georgia's voting rolls before the 2018 election, according to data from the U.S. Election Assistance Commission, an agency that gives guidance to states on federal election laws. Many were removed because they had died or moved away, but nearly two-thirds lost their registration under a "use it or lose it" policy.
In addition, Georgia closed 214 polling places since the Supreme Court decision on voting changes. Seven Georgia counties now have just a single polling place.
"Georgia has been unfortunately a hot bed of some of this sort of stuff," said Ezra Rosenberg, an attorney with the Lawyers' Committee for Civil Rights Under the Law who handles voter-access cases. Without federal pre-clearance, he said, "people don't know what is going on until it's already in place."
The secretary of state's office argued that voting in Georgia has never been easier.
"In Georgia, the reality is that more voters now choose to utilize Georgia's three weeks of early in-person voting than vote on Election Day," said spokesman Walter Jones. He said polling closures were driven largely by concerns about school safety and population changes.
According to the Brennan Center for Justice at New York University, there are at least five major lawsuits over election practices in Georgia:
► The League of Women Voters is challenging a ruling from the Election Assistance Commission allowing states including Georgia to require proof of citizenship documents when people register to vote.
► A coalition of civil rights groups sued to end the "no match, no vote" policy that rejected voter registrations based on minor discrepancies on forms — like the absence of a hyphen in a last name. The State Legislature has largely ended the practice but the suit is pending.
► Ebenezer Baptist Church in Atlanta, long associated with Dr. Martin Luther King Jr. and his family — along with Abrams' group, Fair Fight Georgia — is challenging a litany of election procedures about absentee ballots, poll worker training, voter registration purges, provisional ballots, long lines at polling places and ballot shortages.
► Activist Group Georgia Shift is suing Georgia's four largest counties for failing to spend sufficient resources on elections, leading to a shortage of polling places, voting machines and elections staff. All have led to long lines at the polls — predominantly in minority neighborhoods, the group says.
► The Democratic Party is challenging a 1986 law that requires candidates to appear on the ballot in the order of their party's performance in the last governor's election. Since Kemp won the last election, Democrats say, Republicans have an unfair advantage in the ballot printing.
Mark Rountree, a Georgia Republican political consultant, said the allegations of voter suppression are "filled with hyperbole and falsehoods."
"I know that sounds partisan, but the implication that people are losing elections because of voter suppression is just nonsense. There are people making a living off of this at this point. It's almost become an industry."