Trump Wants McDaniel to Return as GOP Leader: Election Update
(Bloomberg) -- President Donald Trump said he wants Republican National Committee Chair Ronna McDaniel to serve another term. The Republican attorney general of Arizona said he found no evidence of widespread voter fraud. And the head of the Republican Party seemed to say that Trump might have lost the election.
Trump Backs McDaniel's Return as GOP Leader
Trump on Wednesday said he hoped current McDaniel to retain her post as RNC chair, an endorsement that could keep a Trump loyalist in charge of the party's fundraising and data apparatus.
"I am pleased to announce that I have given my full support and endorsement to Ronna McDaniel to continue heading the Republican National Committee," Trump tweeted.
If McDaniel retains control of the national party, it could give the president a powerful ally -- and a lifeline to donors -- if he opts to run again in 2024.
Trump's endorsement also effectively quashes speculation that Trump's son Donald Trump Jr. would seek the party chairmanship.
Earlier Wednesday, McDaniel -- who has backed the president's allegations of voter fraud -- deleted a tweet that appeared to imply that Biden had won the election, by saying Vice President-elect Kamala Harris would prove a deciding vote if Democrats captured two Georgia's Senate seats in a special election in January. -- Justin Sink
Republican Official Says He Found No Evidence of Fraud in Arizona (5:44 p.m.)
Trump suffered two setbacks as he attempted to claim Arizona's electors Wednesday.
With Biden ahead by 12,813 votes as of Tuesday night, the state's Republican attorney general, Mark Brnovich, told Fox Business Network that it was "highly unlikely" that Trump would catch up as remaining ballots are counted.
After looking into complaints about Sharpies used to mark ballots and conducting a random audit of election precincts, Brnovich also said he found no evidence of the kind of widespread fraud Trump has alleged.
Meantime, an attorney representing Trump's re-election campaign attempted to convince a Maricopa County Superior Court judge to seal evidence he was submitting alleging poll workers incorrectly rejected votes.
But, the Arizona Republic reports, the judge rejected the request after opposing attorneys said the public "has a right to know how flimsy" the evidence is.
RNC Chair Seems to Suggest Biden Won (5:15 p.m.)
As chair of the Republican National Committee, Ronna McDaniel has two missions right now: Support Trump's baseless claims of voting fraud and motivate the Republican base in Georgia to turn out for a special election.
Those two goals came into conflict on Wednesday, as McDaniel tweeted about the possibility of a Democratic majority in the Senate.
"If Democrats control the Senate," she wrote, listing likely committee chairs if the Democratic candidates win two Georgia runoffs, "...Deciding Vote Kamala Harris."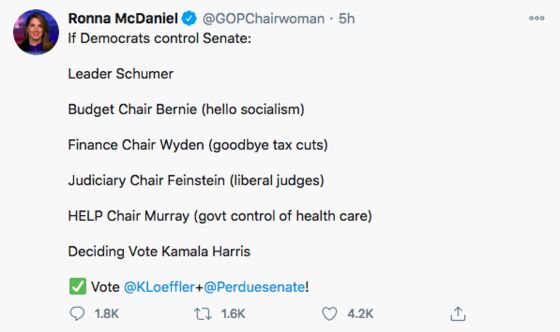 Harris, of course, would only be the deciding vote in a 50-50 Senate if she were the vice president -- which would mean that Biden was the president, and not Trump.
McDaniel deleted the tweet several hours later.
In recent days, McDaniel has echoed Trump's claims about problems with the election although she has stopped short of saying that it is being stolen by Democrats. Instead, she is asking for "assurances" that it was "free and fair."
Biden Leads in Popular Vote by 5 Million (3:23 p.m.)
Biden's lead in the popular vote has grown to 5 million as more states have finished counting ballots.
In raw numbers, Biden's 5.1 million margin in the popular vote gives him a lead that sits between Barack Obama's 5 million vote margin in 2012 and Bill Clinton's 5.8 million margin in 1992.
It's also substantially larger than Hillary Clinton's 2.9 million popular vote margin in 2016, when she became the fifth U.S. presidential candidate to lose a race despite getting more votes.
As of midday Wednesday, Biden had 77.4 million votes, while Trump had 72.3 million votes, as the nation hit a 50-year high in turnout.
Biden's popular vote win comes almost entirely from California, where he won 4.9 million more votes than Trump, earning just under two-thirds of votes cast in the state.
Bidens Attend Veterans Day Commemoration in Philadelphia (1:37 p.m.)
Biden and his wife Jill attended a Veterans Day commemoration in Philadelphia on Wednesday.
They visited the city's Korean War Memorial for a brief ceremony, standing solemnly in tribute to the 640 Philadelphians who died in that conflict. They laid a wreath of red, white and blue flowers.
"If there's anybody that understands what veterans go through, it's this family," Philadelphia Municipal Judge Patrick Dugan told a small group of veterans.
"Their son joined the military," Dugan said, referring to the Bidens' late son, Beau, who enlisted in the Delaware Army National Guard in 2002 and rose to the rank of major. "Who does that now except you veterans and this family here?" -- Jennifer Epstein
Georgia Will Do Hand Audit of Presidential Ballots (12:02)
Georgia Secretary of State Brad Raffensperger announced Wednesday that state election officials will do a hand audit of presidential election ballots, one week after some 5 million of the state's residents cast votes.
Raffensperger said that because of the narrow margin in the race, the state would begin a county-by-county hand audit, which will take a couple of weeks to complete. President-elect Joe Biden currently leads by a margin of about 14,000 votes, the secretary of state said.
Raffensperger said the state plans to have the recount completed by Nov. 20, the deadline for certification.

Raffensperger called the review an "audit, canvas and recount" all in one.
Raffensperger, a Republican, was criticized this week by fellow state Republican leaders, who called for his resignation for his handling of the election.
The Trump campaign hailed the decision in a Twitter message.
President Donald Trump and some of his supporters have alleged election fraud in Georgia, but have provided little evidence. In his press conference Wednesday, Raffensperger said that if anyone has evidence or suspects illegal voting, "bring it to us." -- Brett Pulley
Alaska Win Brings Republicans to 50 Senators (10:07 a.m.)
Republican Dan Sullivan has won a Senate race in Alaska, bringing the GOP to 50 votes in the upper chamber.
That means majority control will depend on the winners of two runoffs in Georgia.
If Democrats win both, the chamber will be tied 50-50, with Vice President-elect Kamala Harris casting the tie-breaking vote. But if they lose either one, Republicans will control the majority as President-elect Joe Biden takes office.
Trump also easily picked up Alaska's three electors with 57% of the vote.
Alaska was called late because state law required local officials carefully examine each mail-in ballot before counting could officially begin on Tuesday.
Trump's Not the Only Candidate Who Won't Concede (9:42 a.m.)
Trump is again setting a new trend, as Republican Senate candidates in Arizona and Michigan won't concede their races.
In Arizona, Senator-elect Mark Kelly is ahead by 79,887 votes, but Senator Martha McSally has not acknowledged that she lost.
In 2018, by contrast, McSally posted a video of her with her dog conceding the race and congratulating Democrat Kyrsten Sinema at a time when she was down about 38,000 votes. She was then appointed to the other Senate seat, which she lost this month.
In Michigan, Republican Senate candidate John James won't concede to Democratic Senator Gary Peters, who is ahead by 84,315 votes, as his advisers have floated conspiracy theories about voter fraud online.
By contrast, James conceded to Democratic Senator Debbie Stabenow after a 2018 matchup, saying in an election night speech at his family business that his "passion for service doesn't end with a poll or end with a vote."
Recounts Unlikely to Help Trump in Bid to Overturn Election Result (7:42 a.m.)
The Trump campaign is considering requesting recounts in at least two states, but President-elect Joe Biden's lead is big enough it's unlikely to make a difference.
In Georgia, Republican Secretary of State Brad Raffensperger has said the state will go ahead with a recount. But Biden currently has a lead of 12,651 votes which is unlikely to be overturned by a recount.
In Wisconsin, the Trump campaign said it would pursue a recount, which it will have to pay for. Biden's lead is 20,540 votes. By comparison, a recount of the 2016 results in that state netted Trump just 131 votes.
In Arizona, the legal bar for a recount is strict, requiring the margin of victory to be just 200 or fewer votes. While Biden's lead there shrank as more ballots came in, he's still ahead by 12,813 votes, making a recount extremely unlikely.
Trump would need to overturn the results in all three states -- or through lawsuits in Pennsylvania or Michigan -- in order to prevail in the Electoral College.
Trump and First Lady Melania Trump will visit Arlington National Cemetery to observe Veterans Day.