Rate-Hike Talk Perks Up on $10 Billion Polish Stimulus Plan
(Bloomberg) -- Poland's ruling populists, faced with sagging opinion-poll ratings and a growing challenge from a freshly united opposition, are about to fire off a set of new stimulus measures, reaching back to the policy that's been the backbone of their popularity.
Central bankers were quick to indicate that the spending boost is likely to fuel arguments for the country's first rate increase since 2012. Earlier this month, policy makers thought that the chance of rising interest rates had declined, according to the minutes of their Feb. 5-6 meeting.
Poland will spend as much as 40 billion zloty ($10.5 billion) to raise pensions and expand family subsidies, will cut the income tax for workers under 26 and invest in the transport infrastructure. Most of the incentives will kick in either before European Parliament ballots in May, or ahead of general elections in the fall.
The zloty strengthened 0.3 percent against the euro to 4.3240 at 5:37 p.m. in Warsaw, the yield on 10-year notes dropped 4 basis points to 2.87 percent after jumping 14 points on Monday.
Read More: How Poland's Ruling Party Is Ratcheting Up Election-Year Spending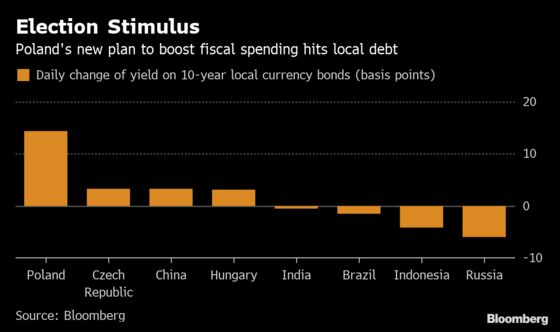 Here's a round-up of what policy makers and analysts are saying:
Monetary Policy Council member Lukasz Hardt
The plan raises the chance that the central bank will start discussing higher interest rates by early next year
Stable rates remain the most likely policy scenario for this year
In Polish conditions, amid a slowing economy, fiscal stimulus "is a better tool to counter slowdown than a risky monetary impulse such as a rate cut"
Monetary Policy Council member Eugeniusz Gatnar
The plan will help keep Poland's GDP growth above 4 percent in 2019
Increased spending may show the need for some "light" monetary-policy tightening in the second half of this year
The plan "completely rules out any discussion about monetary easing"
Monetary Policy Council member Jerzy Zyzynski
Stimulus could help accelerate economic growth to as much as 5.5 percent this year and push the MPC to consider interest-rate increases
It's unlikely that the fiscal impulse will lead to inflation accelerating above 3 percent in 2019 and 2020
Plan doesn't address long-term issues, doesn't offer growth incentives or spending on education
Monetary Policy Council member Rafal Sura
The plan doesn't alter stable-rate view
Sees inflation below target of 2.5 percent this year and above it in 2020 as the plan won't have "any significant" impact on prices
Says economic slowdown in Poland won't require rate cuts, however "room for hypothetical monetary easing still exists" despite the fiscal plan
Morgan Stanley Economist Pasquale Diana
Remains "very skeptical" that the MPC would reach consensus to raise interest rates while core inflation remains low
"Any suggestion that rates could be lowered is likely to disappear pretty quickly, once the package is approved"
Sees risks to own GDP growth forecast of 3.5% this year moving "to the upside"
Erste Group Bank economist Katarzyna Rzentarzewska
The proposals are likely to have pro-inflationary effects
The possibility of interest-rate cuts or non-conventional monetary policy moves is gone
Depending on the global economic outlook next year, the expectations for monetary tightening may arise if economic momentum strengthens
PKO Bank Polski economists including Piotr Bujak
Plan reduces risk of GDP growth slowing below 4 percent
Reduces scope for monetary loosening, both via rate cuts or via unconventional measures
Sees total net cost for budget, once increased proceeds from VAT tax are taken into account, at 1.2%-1.5% of GDP
Given EU's 3% deficit cap, new expenditures will reduce the scope for any additional fiscal stimulus
PKO analysts share finance ministry view that implementation of plan will likely be possible without amending 2019 budget
MBank analysts led by Ernest Pytlarczyk
Higher GDP growth stemming from fiscal stimulus and higher likelihood of interest-rate hikes should support zloty in near term
Bank Millennium analysts led by Grzegorz Maliszewski
Bonds stay under the pressure of declining prices in reaction to the plan of increased public spending plan and increased demand for borrowing which at the same time eliminates a chance for rate cuts -- a scenario that was discounted by some investors