Ramaphosa Rival Faces Ethics Hearing by South African Party
One of South African President Cyril Ramaphosa's main detractors in the ruling African National Congress will face the party's ethics body after being charged with a series of crimes.
ANC Secretary-General Ace Magashule will present himself to the party's Integrity Commission on Dec. 12, Ramaphosa said Tuesday in an online briefing after a meeting of its National Executive Committee. The party is considering whether to suspend Magashule, who was charged on Nov. 13 with corruption, fraud and money-laundering.
The NEC meeting "welcomed the secretary-general's decision to present himself to the Integrity Commission," Ramaphosa said. The ANC is also finalizing guidelines on how to deal with members who are either formally charged or reported to be involved in serious crimes, he said.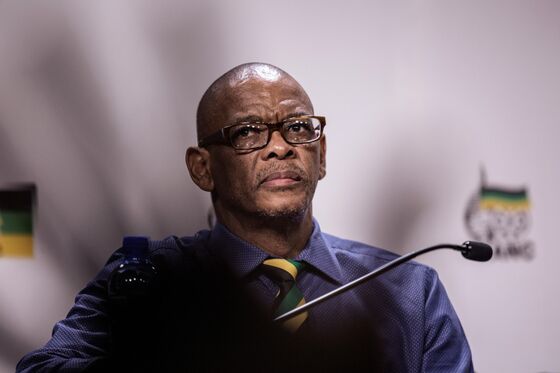 Ramaphosa has struggled to assert his authority over the ANC since winning its presidency by a narrow margin in late 2017, with Magashule at the forefront of a group of detractors who've continually undermined his authority. The charges against Magashule raised the prospect that the secretary-general could be sidelined politically.
The NEC decided on Sept. 1 to enforce a resolution the ANC adopted three years ago that officials should step down from their government and party posts when they are charged, and resign if convicted. Magashule, who oversees the day-to-day running of the ANC, refused to quit after being charged, saying he was innocent and only the party's branches could force him from office.
The ANC's decision to refer Magashule to the integrity body suggests there was a lack of consensus on forcing him to step down, said Melanie Verwoerd, an independent political analyst and former ANC lawmaker.
"Ramaphosa will never push an issue to the brink unless he knows that he would win it," she said by phone. "He also has to ask himself if it would be better to keep Magashule in the fold rather than outside where he could do a lot of damage, as former President Thabo Mbeki experienced with his successor Jacob Zuma."
Magashule isn't the only senior official to defy the ANC resolution -- Bongani Bongo, a former state security minister who now heads parliament's home affairs committee, also refused to step aside despite facing two criminal cases. Court proceedings against the two could take years to be finalized, with any convictions likely to be appealed.
ANC officials have also disregarded decisions by the Integrity Commission. Deputy Finance Minister David Masondo has sought more guidance from the body after it recommended that he step down. Deputy President David Mabuza also took an oath of office despite the commission not clearing him of corruption allegations. Both men deny any wrongdoing.
The issue of what should happen to implicated officials will likely be on the agenda of a key party conference next year, where delegates will discuss the progress it has made in implementing its resolutions. Ramaphosa may face criticism that his administration has made scant headway in implementing several other key decisions, including nationalizing the central bank and enabling the state to seize land without paying for it.