Race to Topple Trump Getting Started in Senate: Balance of Power
The Democratic jockeying to unseat President Donald Trump is starting in earnest, with the U.S. Senate emerging as a prime breeding ground for potential contenders.

Nearly a dozen Democrats with 2020 presidential aspirations will face intense scrutiny in coming months as they maneuver on legislation and nominations — and fight battles with Trump, Sahil Kapur and Steven Dennis report.

The top tier of hopefuls includes a quartet of senators with powerful fundraising networks, viral Twitter accounts, and strong ambitions: Kamala Harris of California, Cory Booker of New Jersey, Elizabeth Warren of Massachusetts and Kirsten Gillibrand from New York.

Their appeal could be blunted by Beto O'Rourke, whose unsuccessful bid to unseat Republican Senator Ted Cruz in Texas enthralled the party faithful — and opened donors' wallets.

Then there's independent Bernie Sanders of Vermont, the 2016 Democratic primary runner-up who's considering whether to run again and who'll be 79 on Inauguration Day in January 2021. He retains substantial support in early polls as well as a robust fundraising list.

Click here for more on these and other lesser-known Democrats who might run.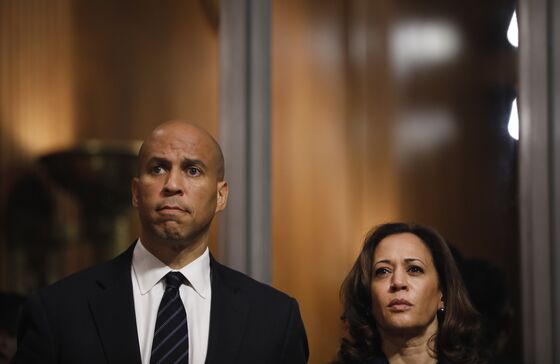 Global Headlines

G-20 Watch | Chinese President Xi Jinping is heading into a high-stakes trade meeting with Trump at this week's Group of 20 summit in Buenos Aires with fewer supporters than he might have expected. Meanwhile, as Josh Wingrove reports, the summit will expose the broad fault lines now running through the decades-long global rules-based order. That includes a fresh question mark over whether Trump will meet Russian President Vladimir Putin. For full G-20 coverage, click here and follow Bloomberg Politics on Twitter and Facebook.
No pressure | Trump is unmoved by Republican senators' demands that he quickly nominate a successor to fired Attorney General Jeff Sessions, Shannon Pettypiece and Jennifer Jacobs report. That's fueled fears that acting Justice Department chief Matthew Whitaker could curtail the special counsel's inquiry into Russian meddling in the last U.S. presidential election, as Robert Mueller weighs additional indictments and a final report.

Brexit retreat | Even before Parliament had a chance to vote on U.K. Prime Minister Theresa May's EU-exit deal, she's backed down. As Robert Hutton reports, May has abandoned moves to try to stop critics from re-writing her plan. That has potentially huge implications: Lawmakers will now be able to propose alternatives, such as keeping Britain in a permanent customs union and even a referendum to reverse Brexit.

Turkey's predicament | President Recep Tayyip Erdogan is threatening to attack U.S.-backed Kurdish forces in neighboring Syria, angered by a decision to deploy observers the U.S. says was intended to help keep the peace. As Selcan Hacaoglu reports from the border, Turkey says it faces another attempt to redraw the region's maps as Syrian Kurds are joined by armed Turkish brethren. Pitting NATO allies against each other, tensions could escalate.

Politics of martial law | Ukrainian President Petro Poroshenko had a tough time persuading parliament to agree to impose martial law, despite Sunday's naval clash with Russia near Crimea. Lawmakers only backed a watered-down plan that limited the measure to regions close to Russia and for 30 days, not 60. Some suspected Poroshenko's request had more to do with boosting his chances in March's presidential election than the threat of imminent attack.

Bolsonaro's reach | Like Fox News to Trump, Brazil's evangelical network Record is shaping up as the venue of choice for President-elect Jair Bolsonaro. David Biller reports exclusively on how the arrangement reflects the increasing sway of evangelicals, and allows Bolsonaro to trumpet talking points to a receptive audience and bolster his agenda - while increasing the clout of the network owned by a billionaire bishop.
What to Watch

- After almost six months in power, the Italian government is grappling with European Commission demands that it rein in spending plans for next year. But as John Follain and Chiara Albanese report, the administration is struggling to deliver on its election pledges.
- Republican Senator Cindy Hyde-Smith won re-election in a Mississippi runoff that should've been a cakewalk but turned unexpectedly competitive after a late-stage, racially tinged controversy.
- Democrat Nancy Pelosi is poised to clear the first hurdle today in her bid to become House speaker, but her critics will be counting the defectors to see if there are enough to try to block her when the entire chamber votes in January.

And finally ... Saudi Crown Prince Mohammed bin Salman was confronted by protesters in Tunisia demanding the "expulsion of the butcher," on his first regional trip since the murder of columnist Jamal Khashoggi in the consulate in Istanbul. He visited the United Arab Emirates, Bahrain and Egypt before arriving in Tunisia, the cradle of the 2011 uprisings and the Arab country with the freest press and protest laws. The prince arrived this morning in Argentina, where he is expected to meet Putin on the sidelines of the G-20.